VPN Tracker 365 version 21.4* is now available for all customers to download! As well as introducing a fresh new my.vpntracker UI, this update also brings some key changes to the app for both team- and individual users.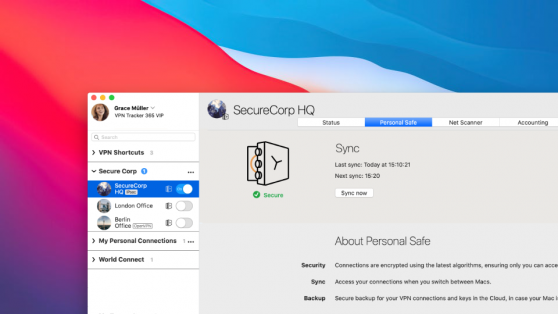 Get up to date on everything that's new in the latest version in this detailed update guide...
*Version 21.4 also including any subsequent minor updates to follow the main release.
What's New in Version 21.4?
Here are some of the key highlights of the latest VPN Tracker 365 version...
Introducing Personal Safe
Connection Safe has had a major rebrand and we are thrilled to be introducing Personal Safe to VPN Tracker 365!
Why Personal Safe?
We decided on the name Personal Safe to better reflect its versatility in being able to sync and store so much more than just your VPN connections in the cloud.
Personal Safe uses the familiar and secure Connection Safe encryption technology to keep all your VPN connections, passwords, and Shortcuts* synced and safely stored across your personal devices.
*Personal Safe for VPN Shortcuts is exclusively available in VPN Tracker 365 Pro and VIP plans.
New: Personal Safe can now also be enabled or disabled for all connections at once. Go to your "VPN Tracker 365" > "Preferences" and open the Personal Safe tab to see a list of your synced Shortcuts and Connections and update your preferences: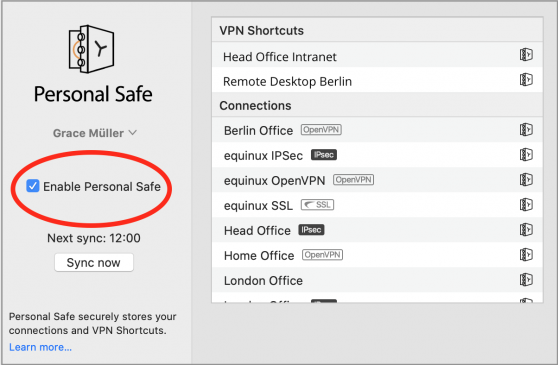 This rebrand paves the way for a major update coming up later this year. Stay tuned for more details!
New connection sidebar design
A design refresh in version 21.4 also brings a fresher look and feel to VPN Tracker 365.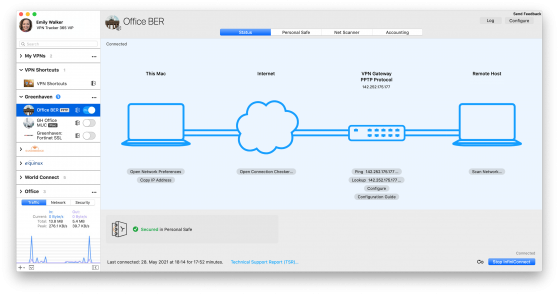 Tip: Company logos for VPN Tracker teams are exclusively available in VPN Tracker VIP plans. View upgrade options...
New for VPN Tracker 365 Teams
As well as your connections and VPN Shortcuts collections, you can now also access all your essential team information in the redesigned sidebar menu.
Both Team Managers and regular team members can now benefit from an optimized teams view, as part of the brand new my.vpntracker UI refresh.
For team members: Access your team page from within the VPN Tracker 365 app via the re-designed sidebar or at my.vpntracker.com - where you can find contact information for your team manager(s) and an overview of your current VPN Tracker plan.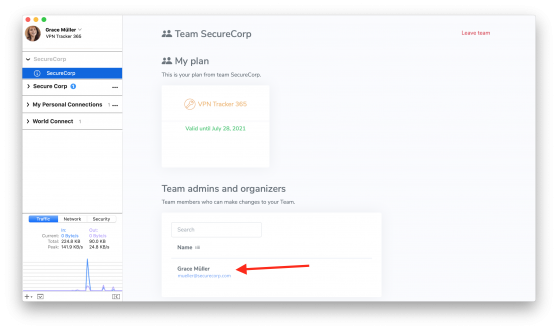 For managers: View and manage your team directly in the VPN Tracker 365 app.
View and assign available plans, invite and remove members, and customize your team's information in your personalized team profile: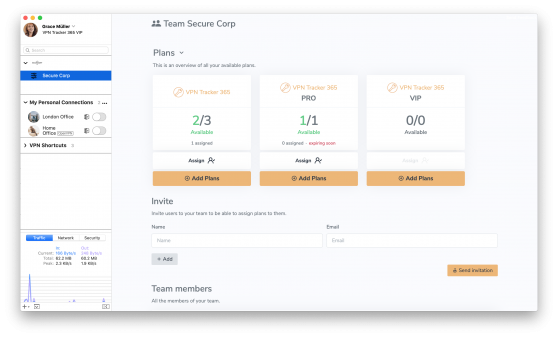 Simplified cross upgrade workflow
Cross-upgrading your plan is now easier than ever thanks to the integrated cross-upgrade workflow available from version 21.4 in VPN Tracker 365.
Come across a feature you'd like to unlock access to (e.g. Network Locations for Connection Checker)? VPN Tracker 365 will direct you to the new store view listing your options so you can upgrade at the click of a button and get your new plan there and then: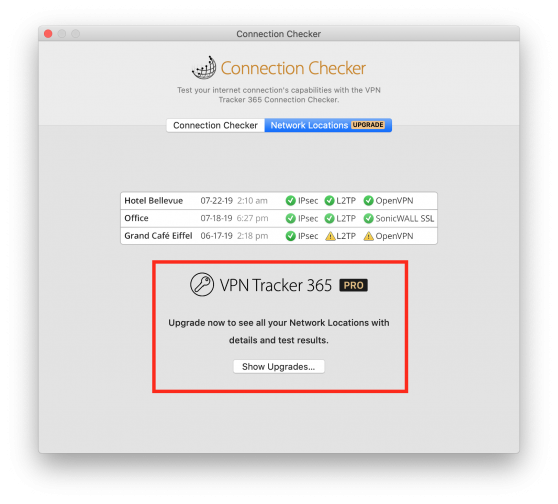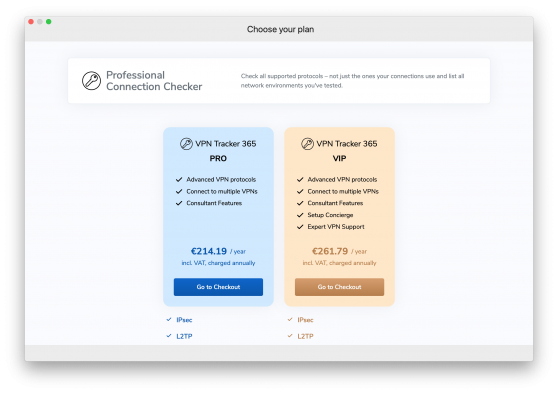 Team members can now also request a license upgrade directly from the app. Select the license you would like to upgrade to (e.g. VPN Tracker 365 Pro) and your team manager will be automatically notified of your request.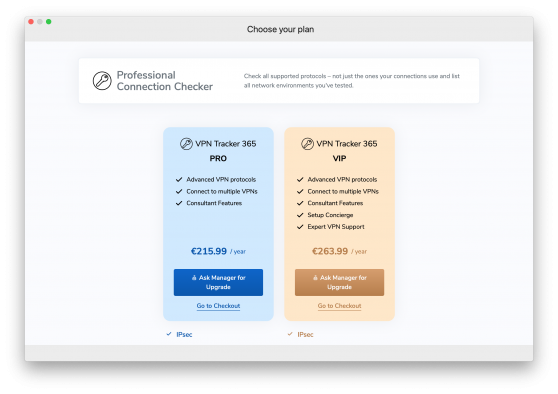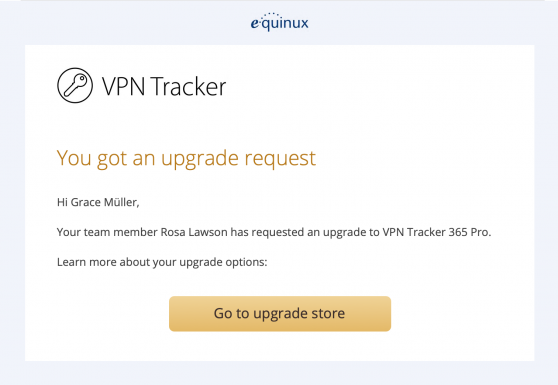 Further Improvements
The VPN Tracker 365 team has also carried out the following fixes and improvements for you:
OpenVPN: Topology subnet configurations pushed by the server are now set correctly
OpenVPN: Pushed DNS options now no longer override VPN Tracker 365's configured DNS settings
OpenVPN: Improved error messages for cipher mismatches
Net Scanner: Addresses no longer appear truncated on older macOS releases
Accounting: A formatting issue when exporting to Numbers has been corrected
A Personal Safe syncing issue for VPN Shortcuts has been resolved
UI issues with the Connection Notes field have been fixed
The animation when resizing the connection list has been improved
An issue with certain certificate formats that could cause VPN Tracker to crash has been fixed
Layout issues under macOS Big Sur have been fixed
Stability and performance improvements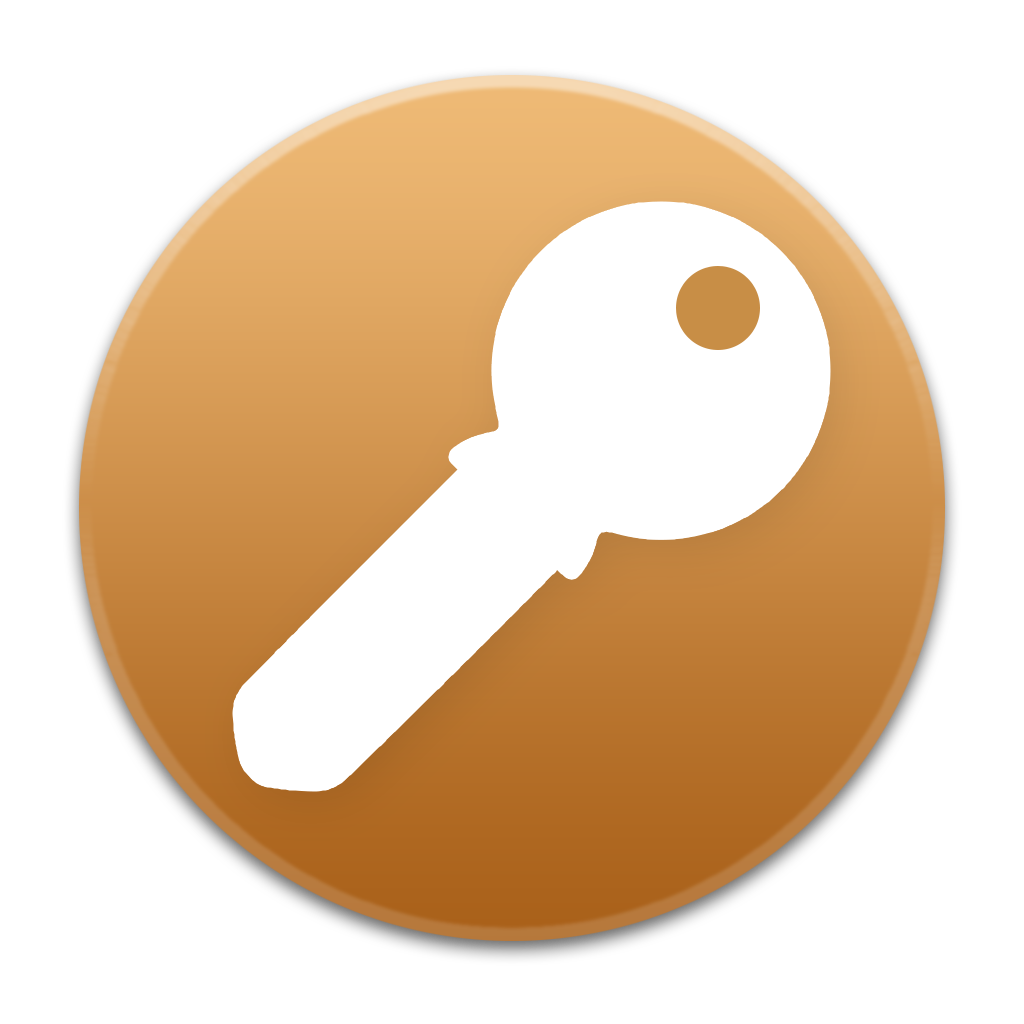 Trust the #1 VPN client for macOS:
VPN Tracker securely connects thousands of Macs worldwide with VPNs every day. VPN Tracker was developed from the ground up in our head office in Munich. You can trust in our long experience working with advanced VPN technology.