VPN Tracker 365 version 21.1.1 is now live and welcomes full support for PPTP VPN connections on Big Sur - exclusively available in Pro and VIP plans.
This new update also brings even better compatibility for IPSec and OpenVPN protocols and a couple of important Connection Safe improvements.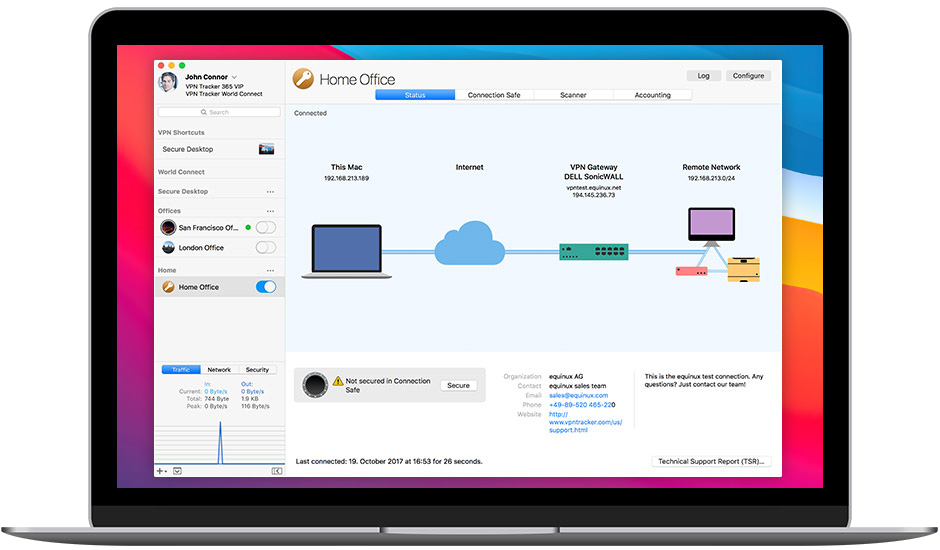 PPTP support is here!
We are pleased to announce that VPN Tracker 365 now supports PPTP connections on Big Sur.
Version 21.1.1 boasts a new, advanced PPTP VPN engine specially optimized for macOS 11 Big Sur and Apple Silicon, with full support for all new system security architecture.
Another great bonus of this major new update is the inclusion of custom MTU calculations, ensuring optimal reliability on difficult internet connections.
Important: PPTP support on Big Sur is exclusively available for Pro and VIP plan holders. Existing customers requiring PPTP VPN support can get a pro-rated upgrade at my.vpntracker to unlock access to this must-have feature.
P.S. Thinking of upgrading to Big Sur or switching to a new M1 Mac? As a Universal App, VPN Tracker 365 is the best choice when it comes to setting up a PPTP VPN connection on your new Mac. Learn more.
Using a PPTP VPN Connection on Big Sur
Setting up a PPTP VPN connection on Big Sur is easy:
Create a new "Company Connection", go to the "IPSec/L2TP/PPTP" tab and choose "Connection based on PPTP Protocol"
Now enter the IP address or Host Name of the PPTP server you want to connect to, give your connection a name, and export it.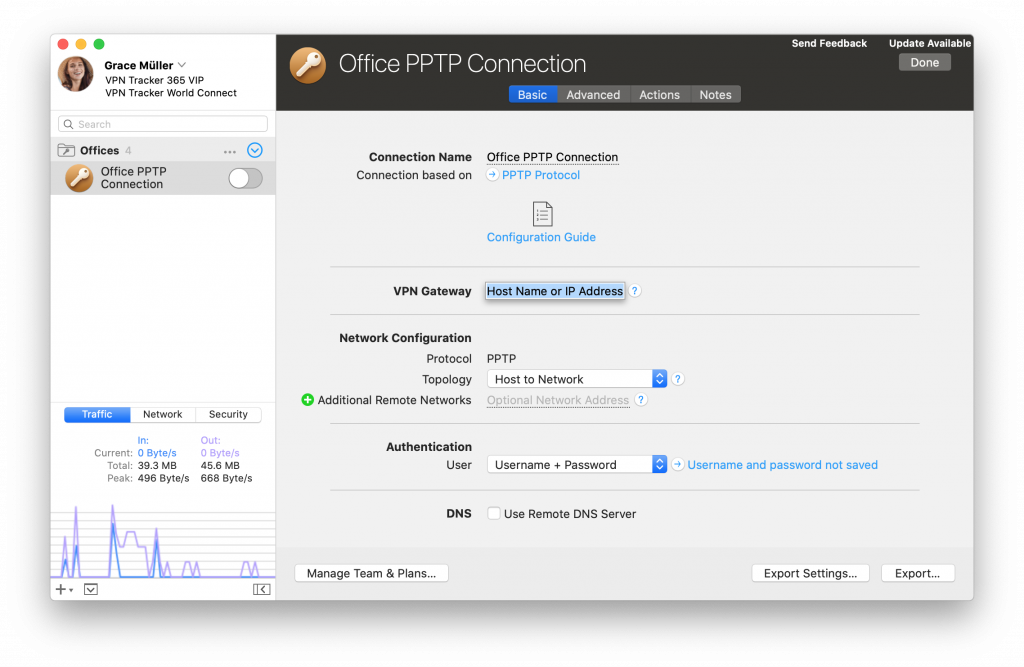 Your PPTP connection is now ready to use! You can find more detailed information about setting up a PPTP VPN connection to use on macOS 11 in this guide.
Further Improvements
Version 21.1.1 also brings the following improvements to VPN Tracker 365:
OpenVPN: Improved compatibility with Sophos SSL configuration files
IPsec: Improved connection reliability under macOS Big Sur
IPsec: SecurePoint devices profiles now show authentication settings
Connection Safe: Issues with sync keys are now self-healing
Connection Safe: Syncing reliability improvements
Additional stability and performance fixes
Unlock PPTP Support on Big Sur
VPN Tracker 365 version 21.1.1 is available to download now. We look forward to hearing your thoughts and feedback on the new version.
Until next time,
Your VPN Tracker 365 Team

Trust the #1 VPN client for Mac OS X and macOS:
VPN Tracker securely connects thousands of Macs worldwide with VPNs every day. VPN Tracker was developed from the ground up in our head office in Munich. You can trust in our long experience working with advanced VPN technology.