NEW: VPN Tracker 18.4.1 is out! We have added support for Securepoint devices, improved stability and made some especially helpful improvements for VPN professionals.  

Support for Securepoint NextGen UTM-Firewall Gateways
VPN Tracker 365 now supports Securepoint Firewalls. These robust devices are easy to configure and are a great all-in-one security option. They not only establish secure VPN connections, but also have additional tools to help ensure the security of your whole network. The firewall protect against network attacks with Deep Packet Inspection, can scan and filter content to secure your internet surfing, and even guard your communication channels.
SonicWALL & Watchguard device security
We are constantly working on advancing security and protection of VPN Tracker 365. Now you can choose between AES-128, AES-256 and AES-192 encryption when using SonicWALL Simple Client Provisioning. Additionally VPN Tracker 365 now supports all SHA2 hashing algorithms for SonicWALL Simple Client provisioning and Watchguard profiles.
Protocol improvements
We've made some improvements to the reliability of OpenVPN connections. We've fixed some issues when importing OpenVPN connections and keys, so now VPN Tracker supports even more OpenVPN setups and devices. Also incorrect DNS settings can no longer fail establishing OpenVPN connections.  
Good news also for those who are working with L2TP/PPTP connections: Thanks to reliability improvements such connections attempts are now 3x more robust.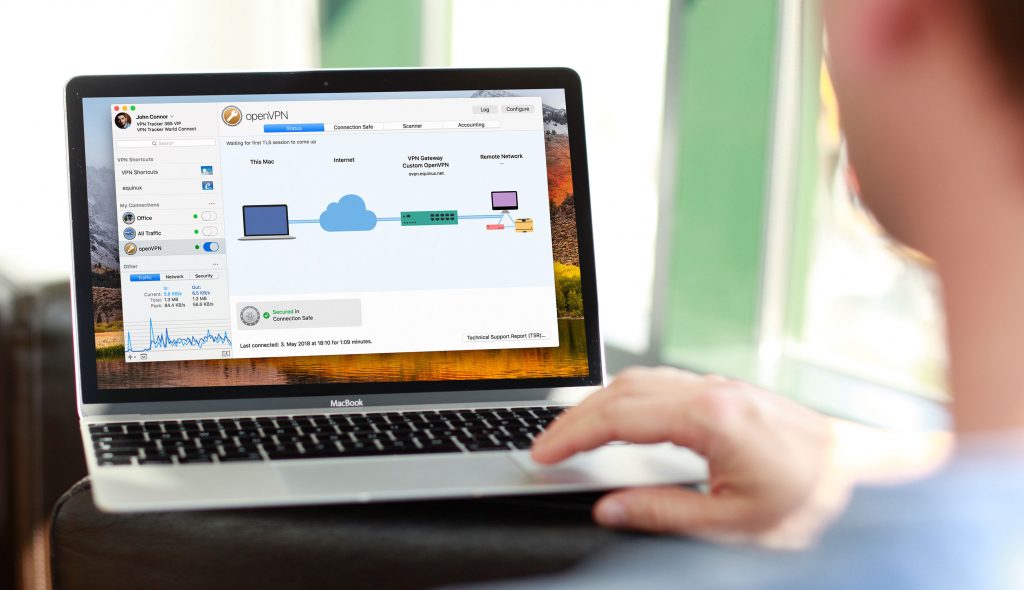 Practical changes for VPN professionals
We've also made several small fixes & improvements that will be especially helpful for the admins of huge networks and VPN professionals.
Network search. Search your connections list by a gateway address or your notes content, not only by a connection name. No more endless scrolling!

Network scanning. Scan the local network even when you are at your VPN location 

Finding certificates: We have added the certificate expiration date to the certificate selection view, so that it's easier to find the right certificate.

Routes setup: Routes are set much faster. That means if you have any connections with a lot of remote networks, they will be connected notably faster than before.
Other improvements include:
VPN Tracker always correctly resets traffic statistics before re-establishing an OpenVPN connection.

Performance improvements when configuring interfaces and disconnecting.

Beta releases continue to offer Nightly builds if chosen in the preferences.

Host to Everywhere connections cannot conflict with an already stopped connection anymore.

Network collision dialog automatically cancels when you change networks.

A crash that could occur when importing VPN Shortcuts as a copy has been fixed.
You can find our full official release notes here.