Upgraded your Mac to macOS Monterey and can't connect to your Cisco AnyConnect VPN? Great news: Full support for AnyConnect SSL VPN connections is now available in the latest VPN Tracker 365 version!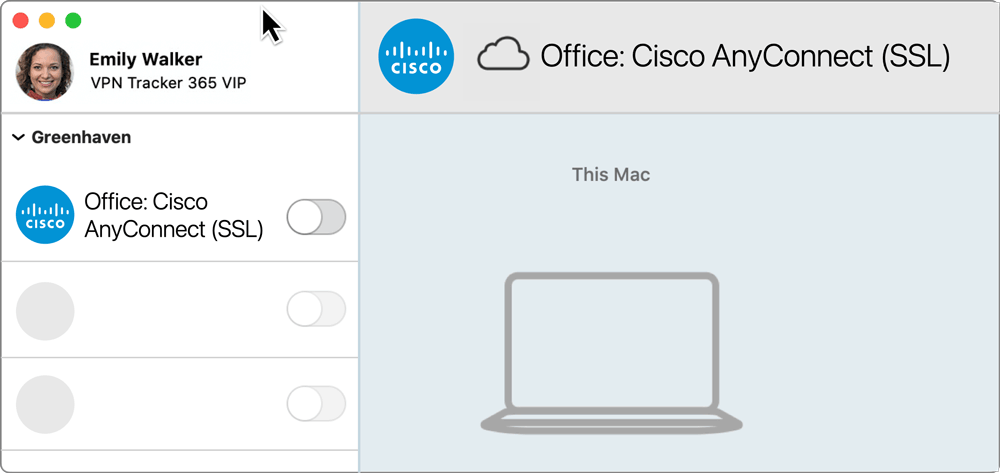 Cisco AnyConnect & VPN Tracker 365 at a glance:
Cisco AnyConnect SSL VPN connections are now supported in VPN Tracker 365 from version 21.7.0
VPN Tracker 365 version 21.7.0 with AnyConnect SSL support runs from Mac OS X 10.11 (El Capitan) through macOS 11 (Big Sur) and is already compatible with macOS 12 (Monterey)
VPN Tracker 365 Pro, VIP and Consultant editions, as well as Team Member & Team Member Plus editions all include support for AnyConnect connections
New to VPN Tracker? Seamlessly move your Cisco AnyConnect VPN connections over to VPN Tracker 365 to continue using them on your Mac with macOS Monterey. Learn more.
Connect to Cisco AnyConnect VPN on your Mac - in VPN Tracker 365
As one of the most popular VPN protocols, Cisco AnyConnect SSL VPN is trusted by major corporations and educational institutions worldwide to provide thousands of employees and students with secure remote access.
Today, we are thrilled to announce that AnyConnect SSL connections are fully supported from the latest VPN Tracker 365 version (21.7.0), which you can download here.
Cisco AnyConnect SSL support in VPN Tracker 365 has been specially developed for optimal performance on macOS Monterey and offers you the following key advantages:
Automatic intelligent protocol switching (VPN Tracker 365 automatically optimizes for TCP or DTLS protocols based on network throughput and profile)
Latest security standards: Secure authentication with 2FA, multi-factor and  certificate-based authentication
Compatibility with all major Cisco VPN gateways, including Cisco ASA Firewalls
Get connected faster, with industry-leading VPN throughput performance
Additional support for Cisco AnyConnect VPN connections created with OpenConnect
Full support for Apple Silicon Macs with M1 processors as well as Intel Macs
Native solution for macOS Big Sur and upcoming macOS 12 Monterey release
Multi-protocol VPN Client for macOS
For IT professionals, having multiple VPN connections based on different protocols has traditionally meant installing several VPN clients on your Mac. Behind the scenes, these clients can sometimes cause conflicts with each other - resulting in a time-consuming, clunky workflow just to get connected.
The addition of Cisco AnyConnect to VPN Tracker 365's unrivalled list of supported protocols is the key feature for busy network admins and consultants: Get instant access to all your essential VPN connections in one secure location and connect to multiple VPNs simultaneously.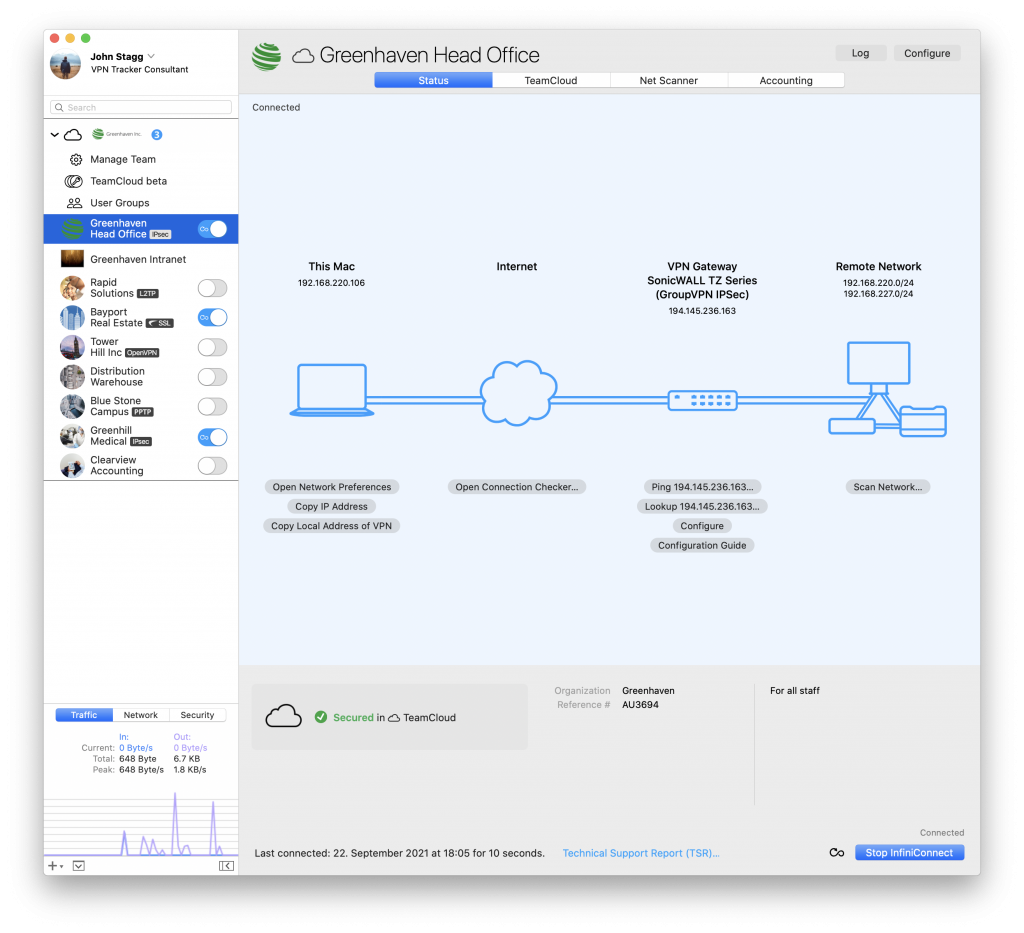 Using Cisco AnyConnect VPN on macOS Monterey
Planning a system-wide update to macOS 12 Monterey in the near future? You can breathe a sigh of relief in the knowledge that VPN Tracker 365 is already one step ahead: Cisco AnyConnect support in VPN Tracker 365 is fully optimized for Mac OS X 10.11 up to macOS Big Sur, as well as for the upcoming macOS Monterey release, due later this year.
In addition, AnyConnect SSL users who are already running the macOS Monterey public beta and have been waiting for Cisco to offer an update can now seamlessly move their connections into VPN Tracker 365 - with full support already available.

How to remotely deploy Cisco AnyConnect SSL VPN connections to your team
With VPN Tracker 365 TeamCloud rollout tools, you can instantly share pre-configured Cisco AnyConnect SSL connections with your team. Here's how it works:
Download the latest VPN Tracker 365 version and create a new connection
By VPN Gateway, enter the remote server address
Click Share with Team to instantly share the connection with colleagues via TeamCloud

Easy VPN access for all users: VPN Tracker 365 automatically finds available VPN groups so you just need to pick yours from the list. Not sure which group to select? Ask your VPN admin.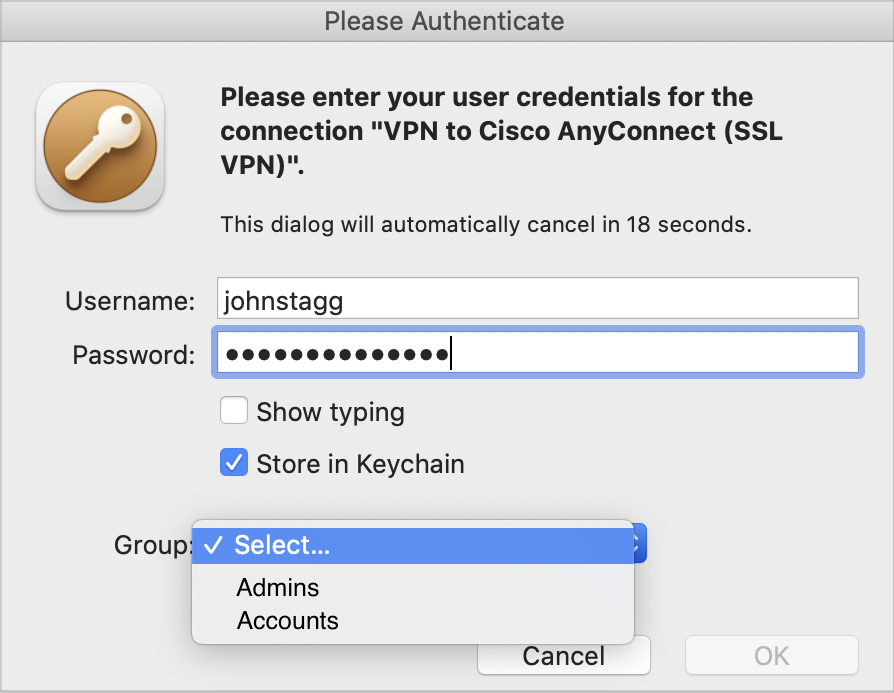 Find out more information on importing Cisco AnyConnect SSL VPN connections in our detailed configuration guide.
Start using your AnyConnect connections in VPN Tracker 365: Licensing information
VPN Tracker 365 offers flexible, per-user licensing and Cisco AnyConnect support is available in VPN Tracker 365 Pro, VIP, Consultant, Team Member, and Team Member Plus editions.
Users with a VPN Tracker 365 Pro, VIP or Consultant license can configure and share AnyConnect SSL VPN connections.
Users with a "connect-only" Team Member or Team Member Plus license can connect to an existing AnyConnect connection via TeamCloud.
Not sure which license you need? Compare all VPN Tracker 365 editions here.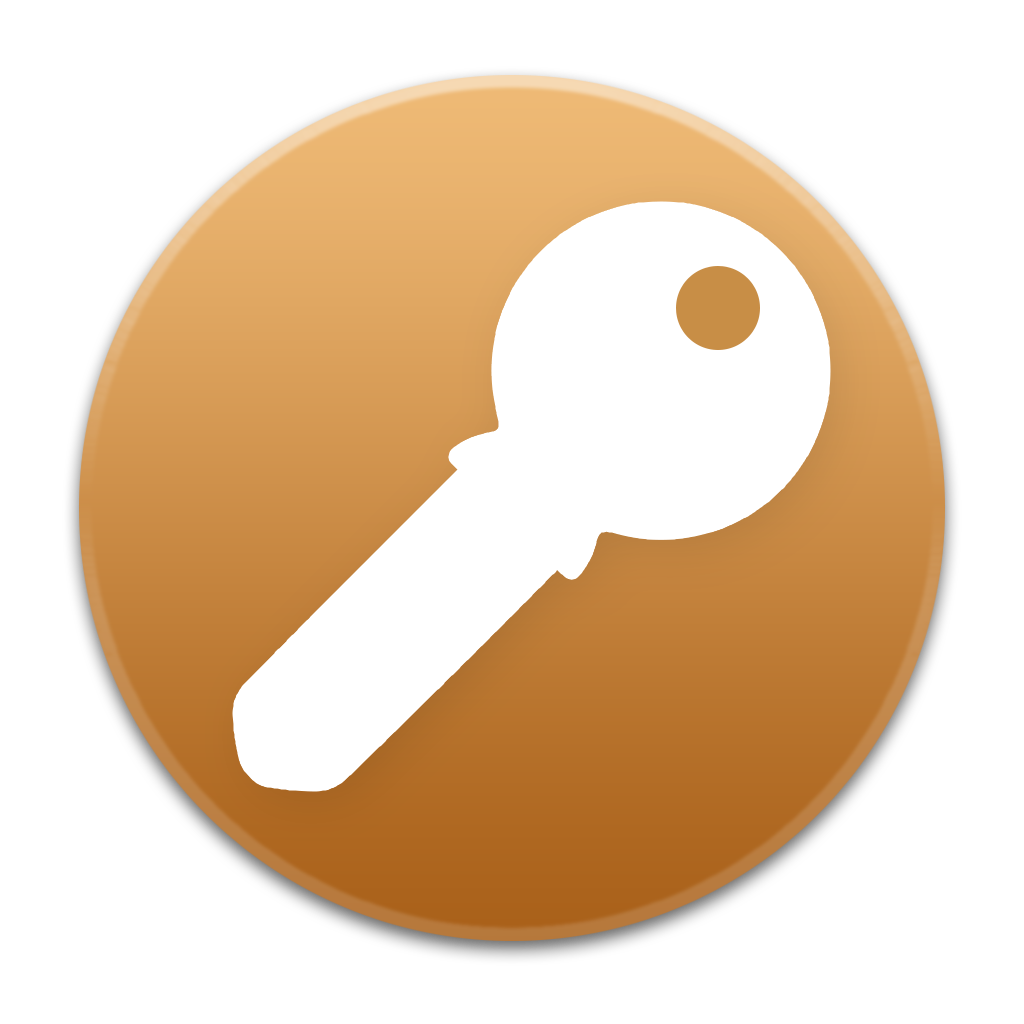 Trust the #1 VPN client for Mac OS X and macOS:
VPN Tracker securely connects thousands of Macs worldwide with VPNs every day. VPN Tracker was developed from the ground up in our head office in Munich. You can trust in our long experience working with advanced VPN technology.