With so many of us now working from home, we've been getting a lot of input from our customers and have focused on improvements for remote work situations in VPN Tracker 19.6.6.
We've focused on three core areas: Remote DNS, Connection Checker and general connection improvements.
Remote DNS and Split DNS Improvements
To briefly recap: when using Remote DNS, you can ask your company's DNS servers to resolve addresses for you. This is required if you have internal pages that are only known to your internal DNS servers, e.g. "internal.corp.example.com"
Instead of sending all requests to your company DNS server, you can also only send requests for certain domains – this is usually referred to as "Split DNS".In VPN Tracker 365 19.6.6, we have added split DNS support for lower-level tools and libraries: anything that relies on etc/resolv.conf will now get the correct split DNS settings you have configured in VPN Tracker.
We've also fixed a few issues, one of which is worth mentioning in particular: when using split DNS with a host-to-everywhere connection, in some circumstances all DNS queries would also be sent through the tunnel; This has now been corrected. So if your internal domains can no longer be found with the new update, check your DNS settings and make sure all the necessary search domains have been added.

Connection Checker Improvements
Another big area of focus for this release is Connection Checker. If you're working from home, it's important to figure out the best settings for your home internet connection.
Connection Checker can tell you which VPN protocols your router and ISP support and will give you advice on what settings you may need to change to get things working.
Thanks to customer feedback, we've been able to improve the in-app suggestions and hints and have also fixed a few bugs.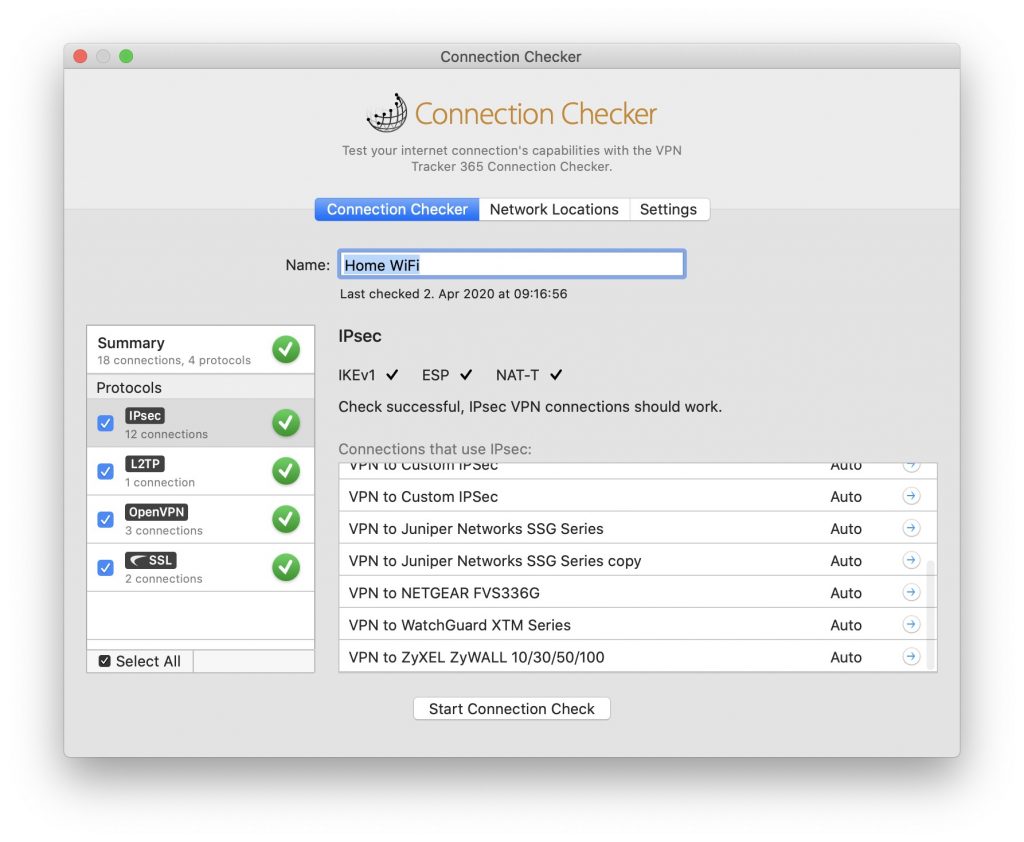 Connection Improvements
As always, we've also made a number of improvements to the VPN Tracker engine, for more reliable VPN connections.
Check the full release notes for all the nitty gritty details, here are a few highlights:
A rare issue with Remote Connection Wipe has been fixed that could prevent some Team members from starting a connection
OpenVPN connections now support more compression configuration options that can be sent by the server
Several fixes that could occasionally prevent IPsec VPN connections from coming up right away
Improved error flow when updating your company login password for L2TP, OpenVPN and SonicWALL SSL connections
How to Update
Go to VPN Tracker 365 → Check for Updates… to get the update right away. You can manage your update settings under VPN Tracker 365 → Preferences:

Test Nightly or Beta Releases
If you're the VPN admin for your company, a reseller or just like getting the cutting edge, you can also enable Nightly or Beta updates under VPN Tracker 365 → Preferences.
You'll be able to get early access to new features and will be able to test any upcoming changes with your connections before they are rolled out to all users.
Can I go back to an earlier version?
If you ever run into any issues with a beta or regular update and want to try an earlier release, here's what to do:
New to VPN Tracker? Learn more on our website, or contact us directly for a quote or if you have any questions.