The current COVID 19 crisis has more and more professionals working from home with VPN. For many of you working remotely and using VPN for the first time, it may take a few days to adjust to this new workflow.
To help you get started and work more productively, here are our solutions for a few common working from home FAQs...
Working from home with VPN: 5 Common FAQs
1. How can I connect to my company network with VPN?
It depends. Each VPN gateway is totally unique and has its own requirements. The best way to find the specific configuration details for your device is by checking our configuration guides. We have setup guides for all leading VPN gateways including NETGEAR, SonicWALL, Synology Cisco, etc...
Get started: Download the VPN Tracker app free and use the guides to configure your VPN connection to connect to your office network from home.
2. What can I access using VPN?
A VPN connection allows you to access files and services located on your company's network. For example, this may include shared folders, your office's intranet, internal email services, databases, etc.
Basically, you can access almost anything on your office network over VPN that you can access when you're at the office. Just note that some of the "auto discovery" features that make things automatically show up at the office won't work, so you may need to use an IP address instead.
Tip: The Network Scanner in VPN Tracker 365 can help you easily find and access the services you need.
While scanning, VPN Tracker recognizes the type of device, detects the operating system it is running, and displays available services for direct access.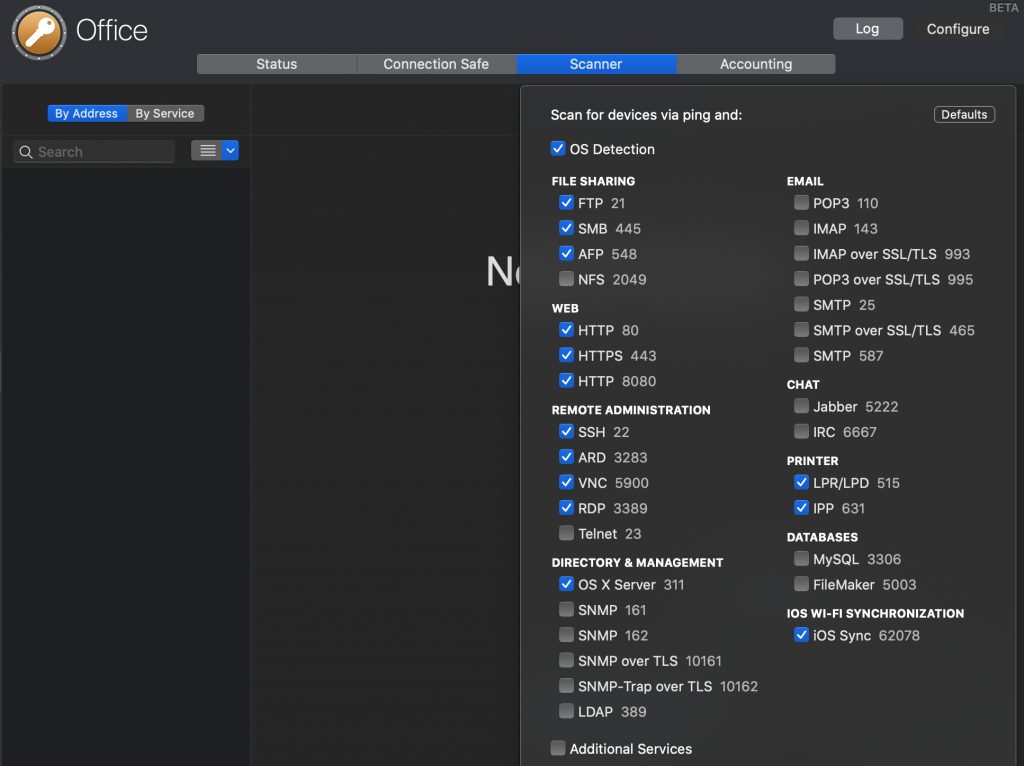 3. What do I need at home for VPN to work?
All you need on your end for VPN to work is a good internet connection. Your company's network administrator will arrange the rest on the other end. As long as your Mac is connected to your home network, your VPN connection should work just fine.
Is my router at home VPN compatible?
You can use Connection Checker to check whether your router supports VPN connections and which protocols are compatible.
Connect your Mac to the internet, start VPN Tracker and go to "Tools" > "Connection Checker."
Select the protocol you want to test for, or select all if you are unsure. Then, click "Start Connection Check" to discover your results.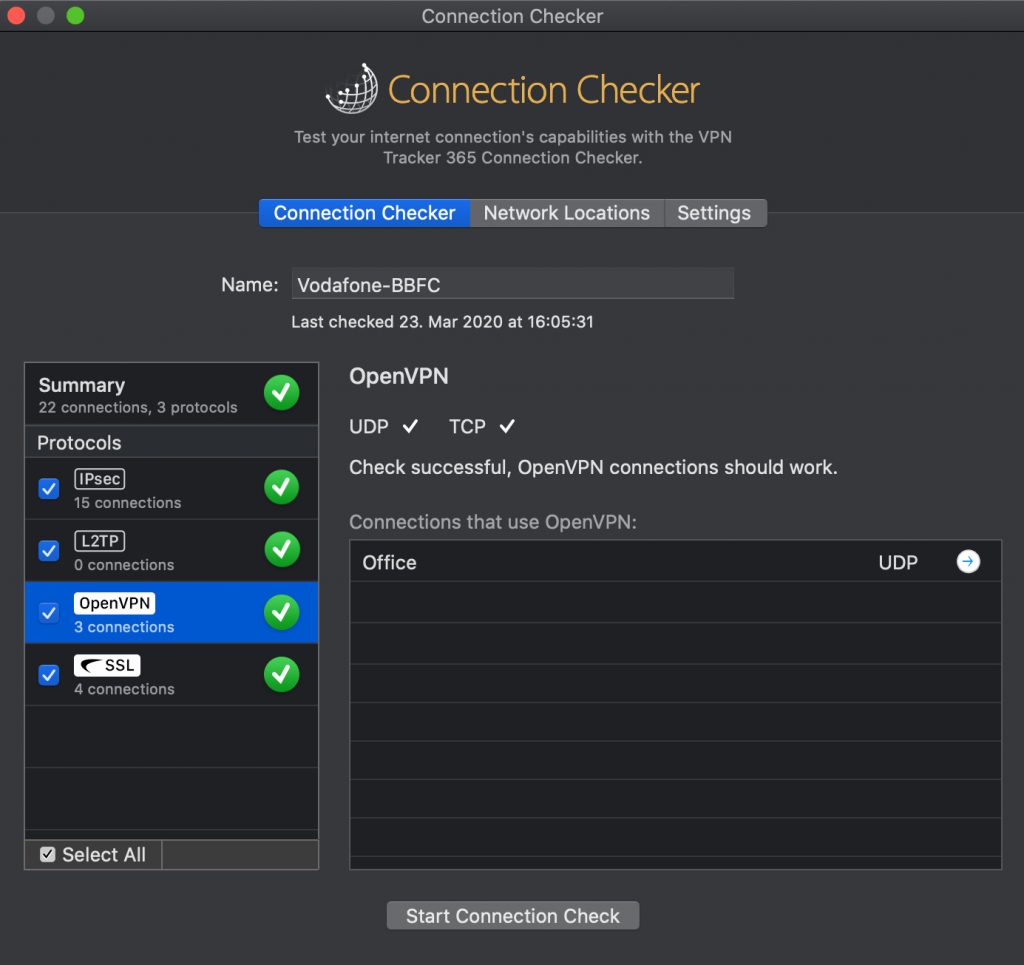 4. What is XAUTH?
When you try to start up your VPN connection for the first time, you may be asked to enter your XAUTH (Extended Authentication) credentials. This is your way of telling the VPN gateway that you are authorised to use the connection.
In most cases, this is likely to be your internal login for your workplace. However, if you are unsure, it's best to check this with your network administrator first.
Tip: After you enter your credentials, make sure to save them in your Keychain so you don't have to authorise yourself each time you connect.
5. How do I access a server which is not in the sidebar?
Once you are up and running on VPN, you will most likely want to connect to your company's server right away. Usually on a Mac, available server locations on your network will be displayed in the sidebar of the Finder window; however, when you connect via VPN, these are not always shown automatically.
To connect and get access to your server files, open Finder and use the shortcut "⌘ + k" to open the "Connect to Server" window. Here you can enter your server IP address to gain access. If you're unsure of the IP address you need to enter, your network admin will be able to help you.
Tip: To get direct access to your server, you can create a VPN Shortcut in VPN Tracker.
Click on the plus in the bottom left corner and select "New VPN Shortcuts." Then, drag out the FileServer icon to configure your shortcut: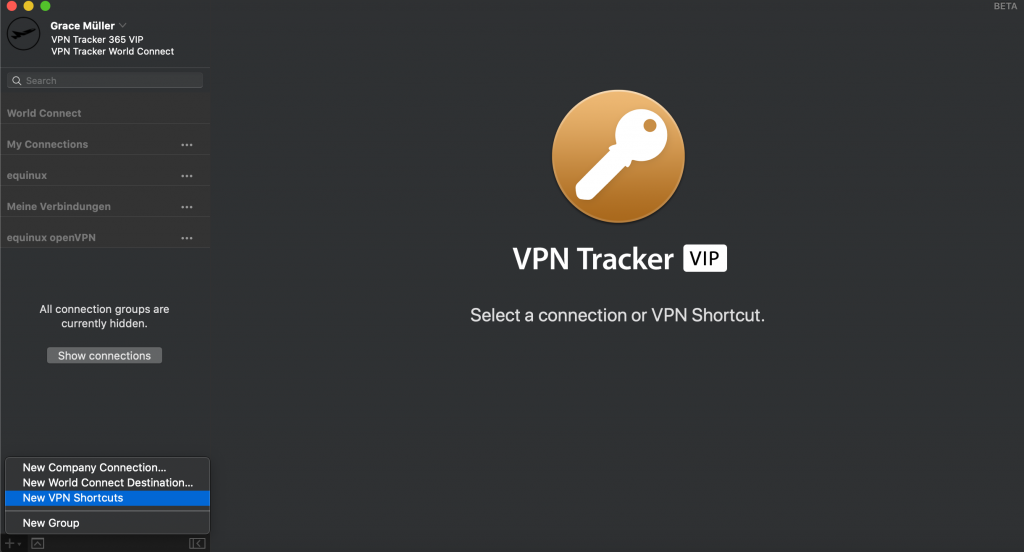 Select the VPN connection you want to use this shortcut with and then enter your server address.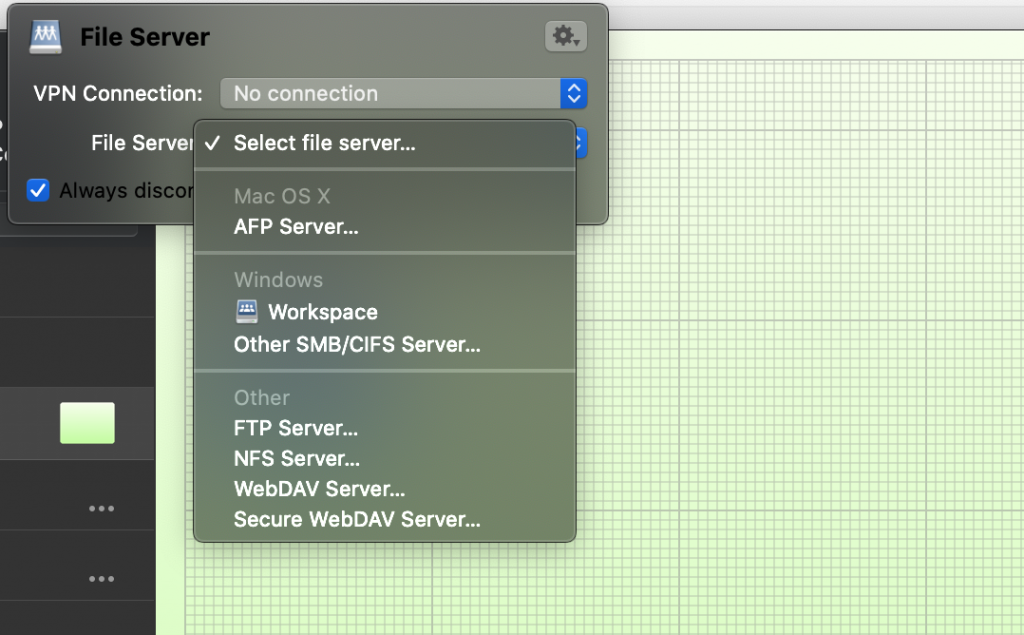 Now you have instant access to your server locations in the VPN Tracker 365 app.
Get started with VPN for your home office
Hopefully these FAQs have helped answer some of your questions about getting set up with a VPN for working from home.
VPN Tracker 365 is the best choice for professionals looking to use VPN to securely access their company network from their Mac. As the leading VPN client for OS X and macOS, VPN Tracker offers a huge range of features designed especially for business users.
Learn more about VPN Tracker on our website, or contact us directly for a quote or if you have any questions.