As a result of the ongoing COVID-19 crisis, thousands of offices around the world are following government guidelines and moving their staff to work from home.
This is a big change for everyone involved. Here are some of our best tips on how to quickly move your entire team to a remote work setup and keep everyone working productively from home.
Tips for rolling out your remote work strategy
Before you move your team to a remote work setup, the first thing you will need to do is to set up a VPN client and connection to give your new remote workers secure access to your internal network.
VPN Tracker is the #1 VPN client for the Mac and is specifically designed with business users in mind. With configuration guides for 300+ VPN gateways and dedicated business features for professionals, setting up a VPN connection for your team to use while working from home is easy.
Once you've downloaded VPN Tracker 365, you can follow these tips to make the change to a remote work setup faster and more productive for everyone in your team.
Prepare the VPN connection for your team
VPNs can be complicated to configure. The good news is, as an admin you can take care of all the setup and configuration ahead of time and export a connection file for your team that is ready-to-go.
VPN Tracker 365 Pro and VIP offer connection export and you can also specify additional security options, including embedding the pre-shared key without making it user-accessible and hiding sensitive configuration details.
Set up VPN Shortcuts to common company services
Some of the most frequent support requests we get are from users asking how to access services over VPN. This is because the auto-discovery magic that makes network shares auto-appear in the Finder's sidebar doesn't work over VPN.
VPN Tracker 365 makes it easy: Give your team access to frequently used resources by creating VPN Shortcuts and sharing them with your team.
Create shortcuts for your company intranet, file servers, internal chat etc. and give your staff simple one-click icons to connect their VPN and launch the service they need.
Setting up shortcuts in VPN Tracker 365 is easy. Click on the "+" in the bottom left corner and select "New VPN Shortcuts." Then, drag your chosen service from the bottom menu: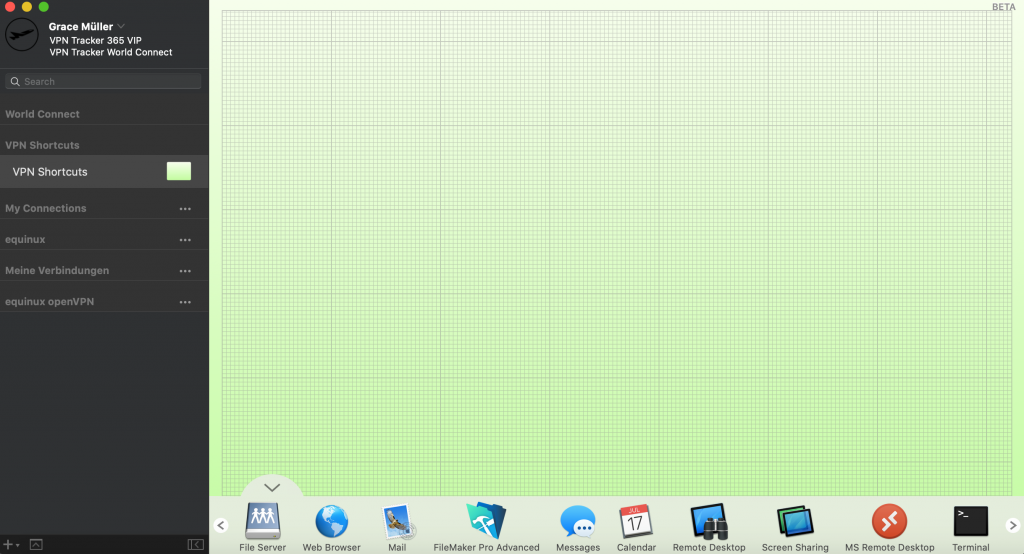 Now you can configure the shortcut and select the VPN connection you want staff to use.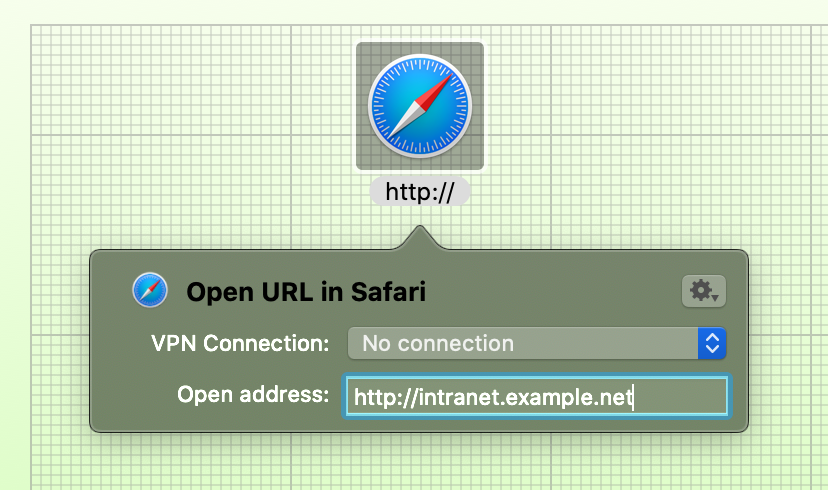 When you've finished your VPN shortcuts, you can export them along with the VPN connection your team will use.
Export your VPN connection & Shortcuts
Use the Export features in VPN Tracker 365 Pro to export your configured connection and VPN shortcuts for everyone in your team to use.
To do this, open VPN Tracker 365, select the connection you want to share with your team and then go to "File" > "Export." Here you can specify the export details and create an import password: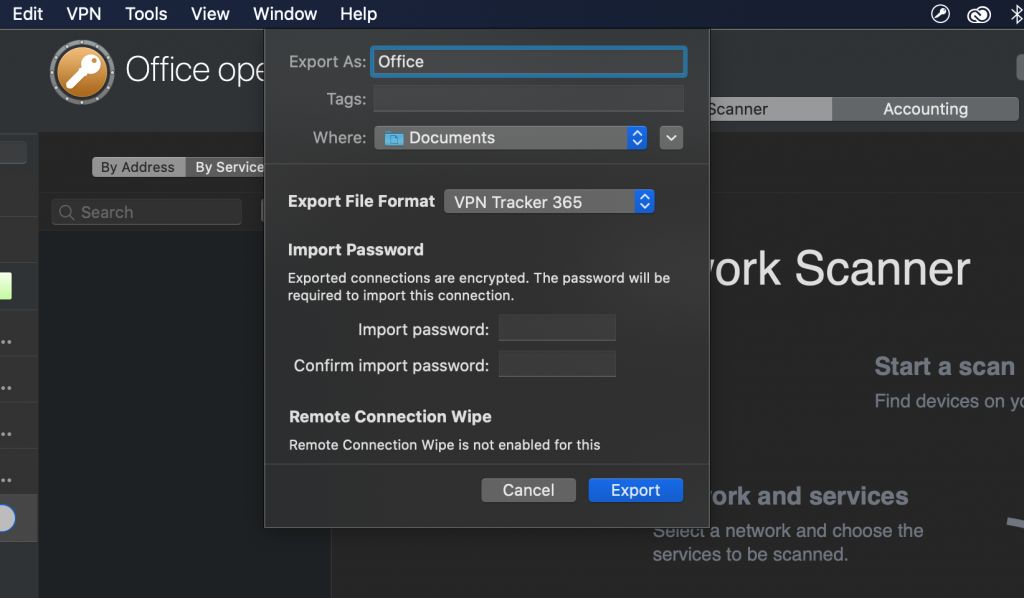 Your VPN connection will then be exported as simple file that you can send via email to your team members. They can simply double click to import the connection and shortcuts into the VPN Tracker 365 app.
Easy Team and License Management with my.vpntracker.com
VPN Tracker 365 offers convenient Team Management features to help you add and assign plans to your team members.
Sign in with your equinux ID and password,
Create a team under the Team Management tab,
Send out email invitations to invite your coworkers to your team: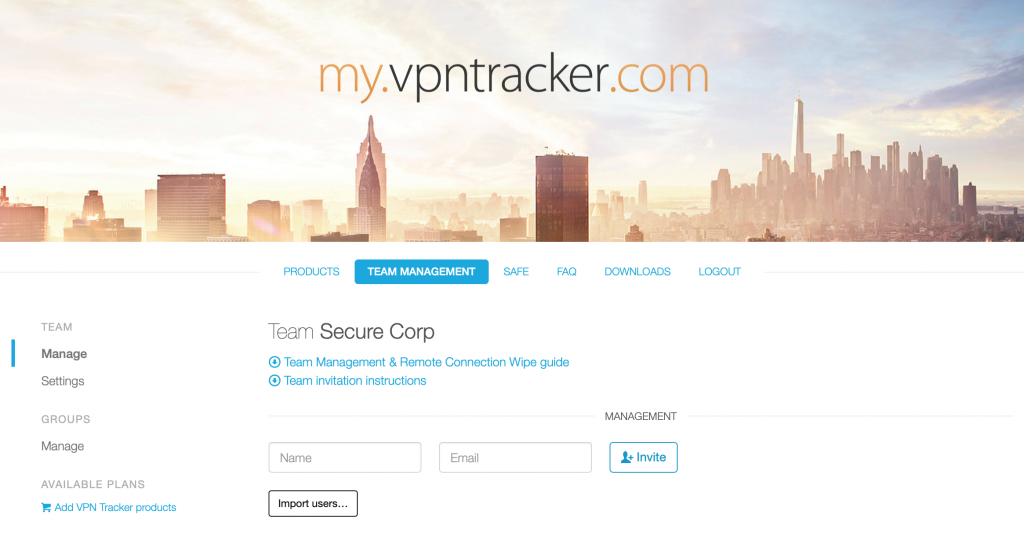 As soon as a team member has been assigned a license, they can download the VPN Tracker 365 app to get started.
Once a team member has accepted your invitation and created an equinux ID, they will appear under the "Team Management" tab.
Tip: Here you can see how many team members you have and how many VPN Tracker licenses you need to purchase from the Team Store.
Let VPN Tracker help your team change to a remote work setup
We hope these tips will help you with the change over to a remote work setup. Learn more about VPN Tracker on our website, or contact us directly for a quote or more information.