If you own one of Synology's NAS systems, you can also set it up to act as a VPN server, offering a convenient way to securely access the files stored on your Synology, as well as other devices on your network.
This is a really useful alternative if your router doesn't offer VPN-capabilities as your Synology is usually always running.
VPN Tracker 365 offers a really simple way to set up your Synology as a VPN server and connect to it from your Mac.
Download VPN Tracker 365 free to get started
How to Configure your Synology NAS as a VPN server for your Mac
To get started, download the latest version of VPN Tracker 365 – it's free to try out.
Then create a new VPN connection to your Synology:
File → New → Company Connection
Choose Synology → OpenVPN from the list of devices
Create the connection, then select the Configuration Guide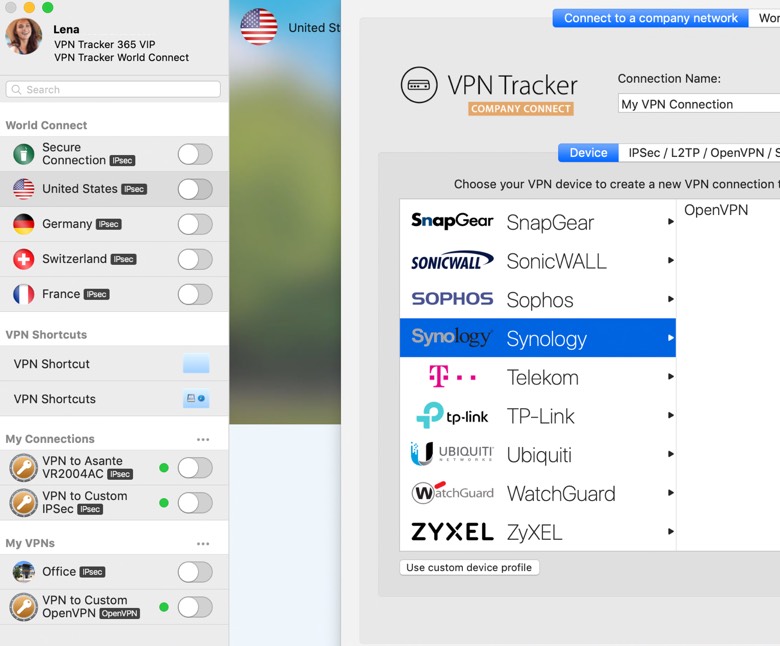 The VPN Tracker 365 Configuration Guide has detailed step-by-step instructions on how to set up the VPN server on your Synology. The gist of it is:
Install the VPN server package
Enable the OpenVPN service from the VPN Server app
Be sure to give clients access to the server's LAN
Export the configuration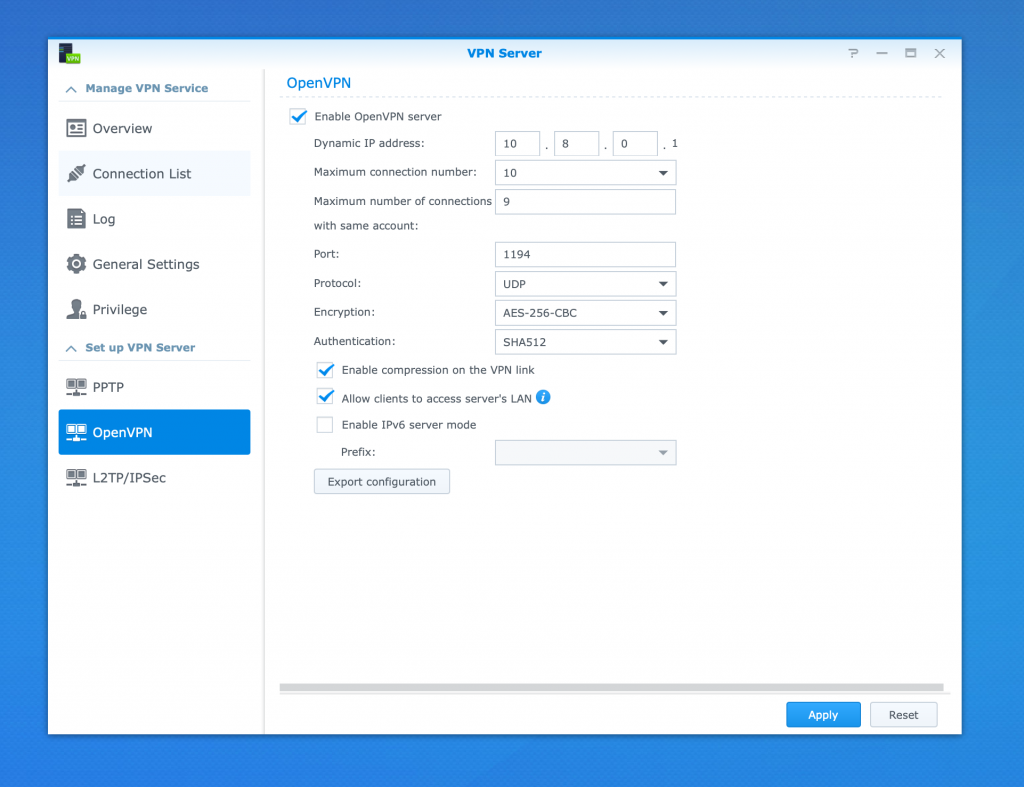 Once you have created and exported the configuration from your Synology, you can simply drop it into VPN Tracker 365.
Once that's done you need to
Set up DynDNS for your router or Synology so they can always be accessed from the internet and enter that as the gateway address in VPN Tracker
Configure port forwarding (UDP port 1194) from your router to your Synology
The VPN Tracker 365 Synology Configuration Guide goes into more detail, so we recommend following that closely.
Try out your Synology VPN connection for macOS
Once you've got everything set up, you'll need to get off your WiFi network to test it out (you can't "VPN in" if you're already "in"). One quick way is to use your iPhone's Personal Hotspot feature, or treat yourself to a coffee and hop on your local coffee shop's free wifi.
Once your VPN is connected, try accessing your Synology or any other devices on your network. Note that they won't show up automatically in the Finder's sidebar, so you'll need to use the "Go → Connect to Server" feature in the Finder.
Download VPN Tracker 365 free to get started
Happy connecting!