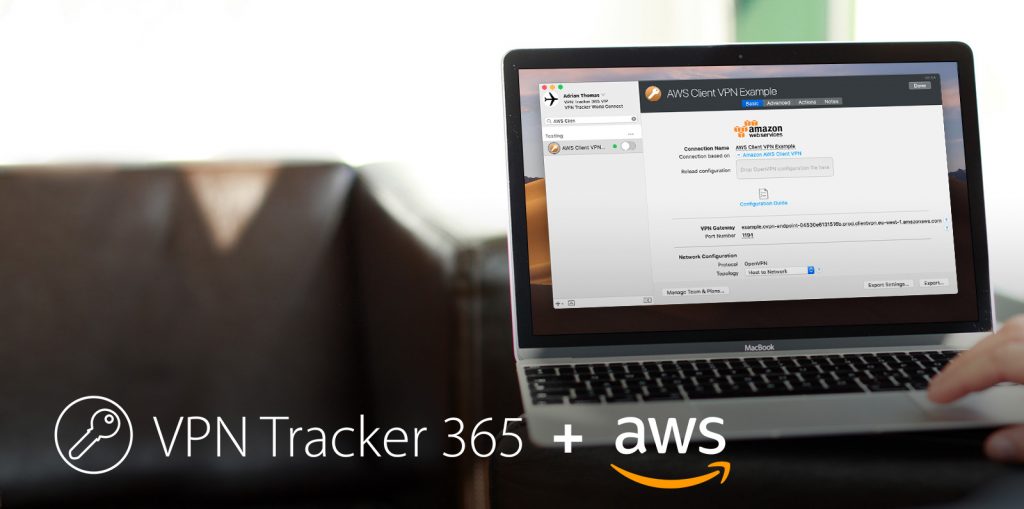 AWS customers have long been able to create custom VPN servers using EC2 instances to get secure access to AWS infrastructure and resources.
However AWS recently introduced a streamlined way to easily give VPN access to all of your users called AWS Client VPN.
The AWS Client VPN service:
Is fully manageable from the AWS Console
Integrates with other AWS services (e.g. your AWS-based Directory service)
Scales automatically, so you can deal with large numbers of VPN users without upgrading costly infrastructure
Uses the latest encryption standards (OpenVPN with GCM ciphers)
VPN Tracker 365 customers can start using AWS Client VPN with the latest release, available today.
Our detailed Configuration Guide walks you through the steps of setting up AWS Client VPN and importing it into VPN Tracker.
VPN Tracker supports both certificate-based as well as (the more familiar and more easily rolled out) directory-based user authentication.
How to access the internet while connected to AWS Client VPN?
By default, your AWS Client VPN setup will route all traffic through your VPN. This means, unless you configure a route from AWS to the internet, you lose internet access.
Tip: Thanks to VPN Tracker's Traffic Control capabilities, you can also use AWS VPN without losing access to your local network and the internet, even if your AWS setup doesn't offer internet access via the routes you've configured.
Just go to Advanced > Traffic Control, select "Only traffic for these addresses" and enter your AWS networks to turn this option on.
AWS Client VPN in VPN Tracker 365 is the easiest way way to access your AWS resources. We look forward to your feedback!
Download VPN Tracker 365 for Mac with AWS Client VPN support