Configuring a VPN connection for your SonicWALL gateway
So you've just got your hands on a brand new SonicWALL device and you need to configure a VPN connection to remotely connect to your office network from home? Our quick start guide will take you through the basics you need to know to get yourself set up.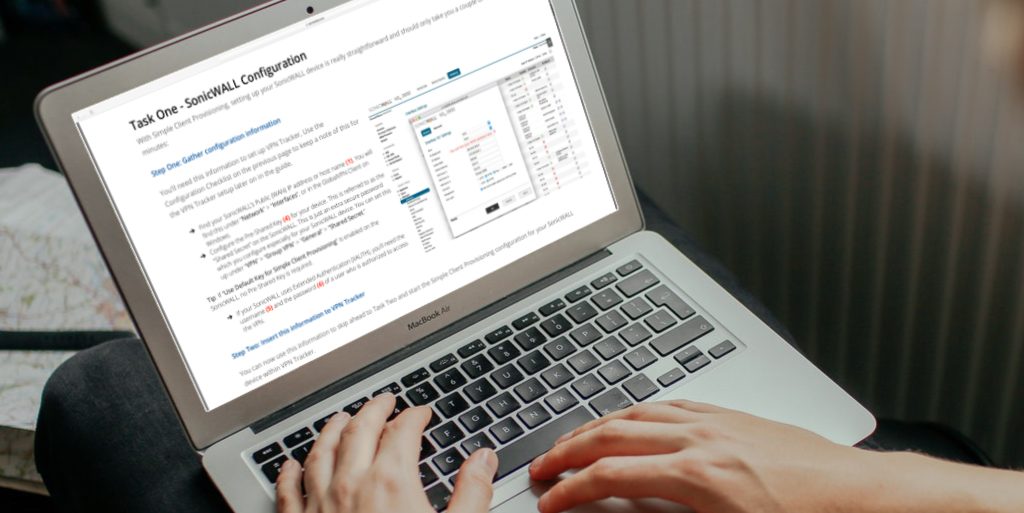 Thanks to SonicWALL Simple Client Provisioning, setting up a VPN on your SonicWALL device is very straightforward and should only take you a couple of minutes. Simple Client Provisioning is available on all of the latest SonicWALL devices such as the NSA Series, TZ Series, and the PRO Series.
Pro tip: VPN Tracker is the only VPN client to offer full support for Simple Client Provisioning. Just enter your SonicWALL's public IP address, or host name, and VPN Tracker will do all of the hard work for you. You'll be up and running on VPN in no time!
Here's a quick overview of how to get started using Simple Client Provisioning on your SonicWALL device:
1
Find your SonicWALL's Public (WAN) IP address or host name.​ You will find this under "N​etwork"​ > "​Interfaces"​, or in the GlobalVPN Client on Windows.
2
Configure the Pre-Shared Key for your device. This is referred to as the "Shared Secret" on the SonicWALL. This is just an extra secure password which you configure especially for your SonicWALL device. You can set this up under "​VPN​" > "G​roup VPN​" > "G​eneral​" > "S​hared Secret​."
Tip​: If "​Use Default Key for Simple Client Provisioning"​ is enabled on the SonicWALL, no Pre-Shared Key is required.
3
If your SonicWALL uses Extended Authentication (XAUTH), you'll need the username and the password of a user who is authorized to access the VPN.
4
Launch your VPN client and enter the connection settings there. VPN Tracker 365 has a device profile specifically set up for configuring SonicWALL devices. You can select Simple Client Provisioning as your network configuration and fill in the information from the following steps. You'll be connected in no time!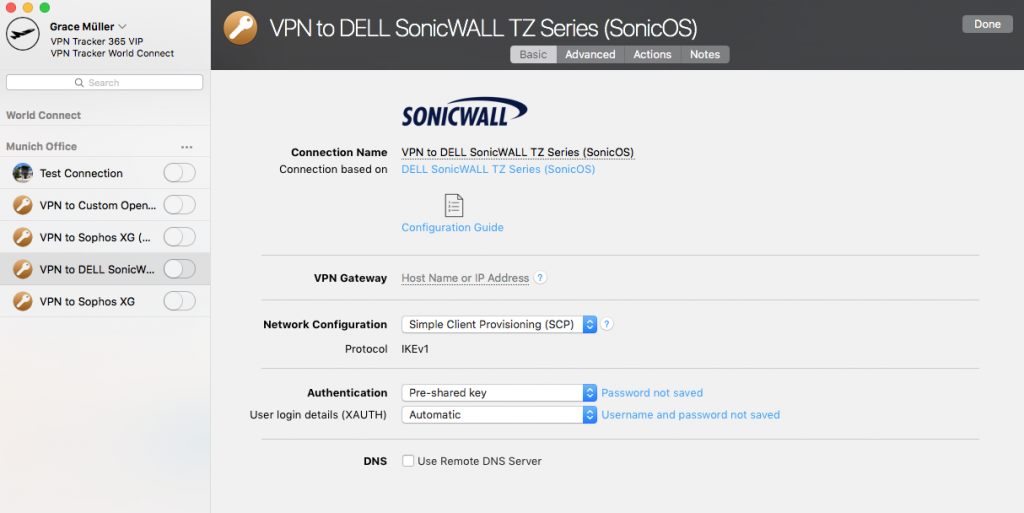 Read the full guide
Optimized for the current SonicWALL UI, our latest configuration guide contains all the key knowledge you need to know about creating a VPN connection on your device, as well as information about manual configuration and advanced setup such as remote DNS. With detailed step-by-steps and screenshots, you can check out the full guide here.
VPN Tracker 365
VPN Tracker 365 is the number one VPN client for macOS devices. Safely store and manage all of your VPN connections in one place thanks to ultra secure encryption standards. VPN Tracker 365 offers support for IPSec, OpenVPN, L2TP, and PPTP connections, as well as full compatibility with the leading security gateway manufacturers including SonicWALL, Cisco, NETGEAR, and more. Learn more...