VPN Tracker 365 - OpenVPN beta
After months of careful planning and testing, the moment many of you have been waiting for is finally here... Following popular demand, the first public beta of VPN Tracker 365 with support for OpenVPN devices is now live!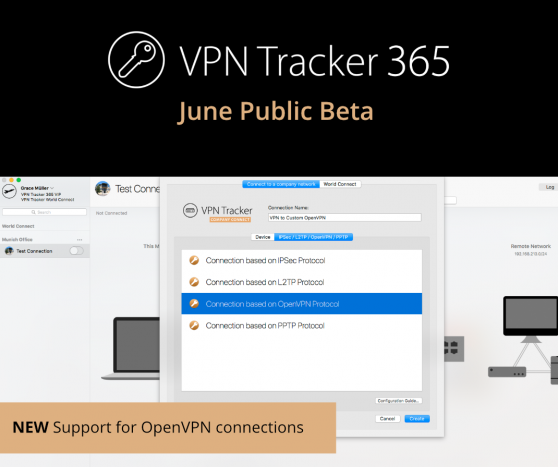 What's new?
VPN Tracker 365 now offers you support for OpenVPN connections! Users with regular plans can create a single OpenVPN connection, and our Pro and VIP customers can create and securely connect to multiple OpenVPN connections.
OpenVPN in VPN Tracker 365: A quick overview:
Here's what you can look forward to in the brand new VPN Tracker 365 public beta...
Use your OpenVPN connections alongside IPSec, L2TP, or PPTP connections.
Benefit from custom OpenVPN implementation designed exclusively for macOS.
Enjoy seamless integration with VPN Tracker 365's other productive features, such as VPN Shortcuts for instant access to services you use over VPN and on-demand launching.
Additional integration available for Pro features such as Accounting, Network Scanner, and Export.

How to get started
Getting started with the new VPN Tracker 365 beta is easy. Follow these three quick steps to start testing VPN Tracker with your OpenVPN connections:
Download VPN Tracker 365 from our website, or launch from your Mac if you are an existing user.
Go to "Preferences" > "General" and tick the box next to "Get early access to Pre-Release versions."
Go to "VPN Tracker 365" > "Check for updates..." to install the latest version of the app.
Tip: If you ever wish to revert to our latest public release, simple disable beta updates and download a fresh copy of VPN Tracker 365.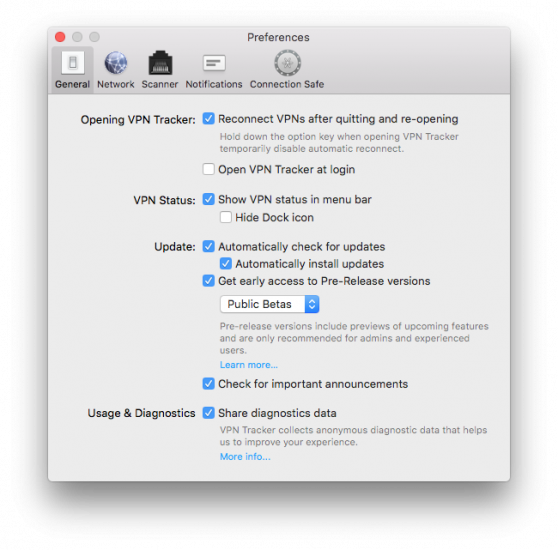 Purchase a VPN Tracker 365 plan
There are plan options for practically every use case. In terms of OpenVPN, you can create a single OpenVPN connection with a regular VPN Tracker 365 plan. To create and connect to multiple OpenVPN connections, you will need a VPN Tracker Pro or VIP plan.
Existing customer? You can access your unique cross-upgrade offer via the my.vpntracker portal.