Top Support for Brand New VPN Gateways in VPN Tracker 365
We're pleased to announce that yet another new VPN Tracker 365 beta is now live and available for testing! This version offers compatibility with three brand new device profiles from NETGEAR, Telekom, and Sophos, as well as continued support for OpenVPN connections; the newest addition to VPN Tracker 365 announced last week.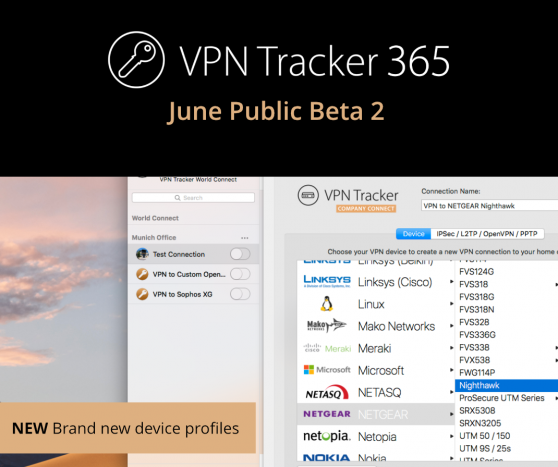 OpenVPN Devices
To coincide with our huge new feature, OpenVPN support, we've built a brand new device profile in the app for the NETGEAR Nighthawk series - one of the most popular VPN gateways offering support for OpenVPN. You can now easily set up an OpenVPN connection to your Nighthawk X6 R8000, Nighthawk R7000, or other devices from the Nighthawk range, and benefit from all the key configuration settings being automatically applied in VPN Tracker 365. If you need help along the way, you can refer to the configuration guide.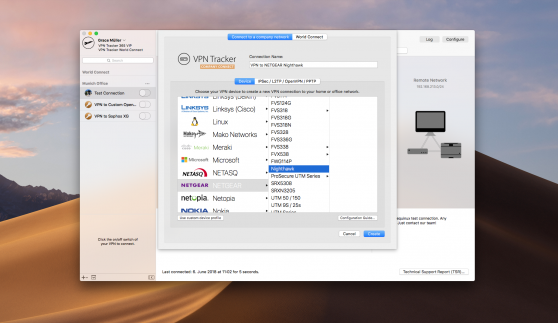 IPsec Devices
For our IPsec users, we've also added two new device profiles. The ultra secure Sophos XG Firewall now has its own device profile in VPN Tracker 365, as well as a detailed configuration guide to take you step by step through the set up process. For our German users, the device profile for the super popular Digitalisierungsbox from Telekom is also ready for use. You can find the configuration guide here.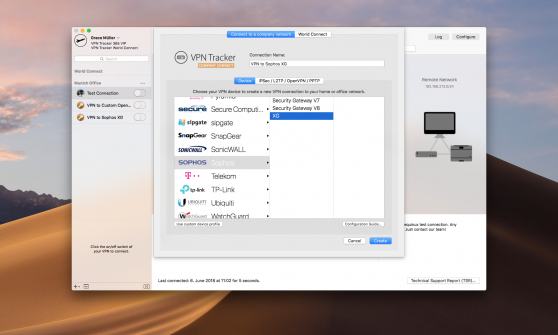 We've extensively tested all of these devices, and tried to make the configuration within VPN Tracker 365 as straightforward as possible; allowing you to get straight to work on building your VPN connections and safely and quickly connect to your company network wherever you are.
The best part? VPN Tracker 365 has been compatible with the macOS 10.14 Mojave beta since the developer launch back at the beginning of June, and that means you can fully test out all of these brand new features while getting to know the new macOS.
Want to test the beta?
We'd love for you to get started right away with testing the latest beta! That way, you can discover all of the new features and device profiles. If you want to try out OpenVPN, or one of the new devices, just enable beta testing in VPN Tracker 365:
Download VPN Tracker 365 from our website, or launch from your Mac if you are an existing user.
Go to "Preferences" > "General" and tick the box next to "Get early access to Pre-Release versions."
Go to "VPN Tracker 365" > "Check for updates…" to install the latest version of the app.
Tip: If you ever wish to revert to our latest public release, simple disable beta updates and download a fresh copy of VPN Tracker 365.