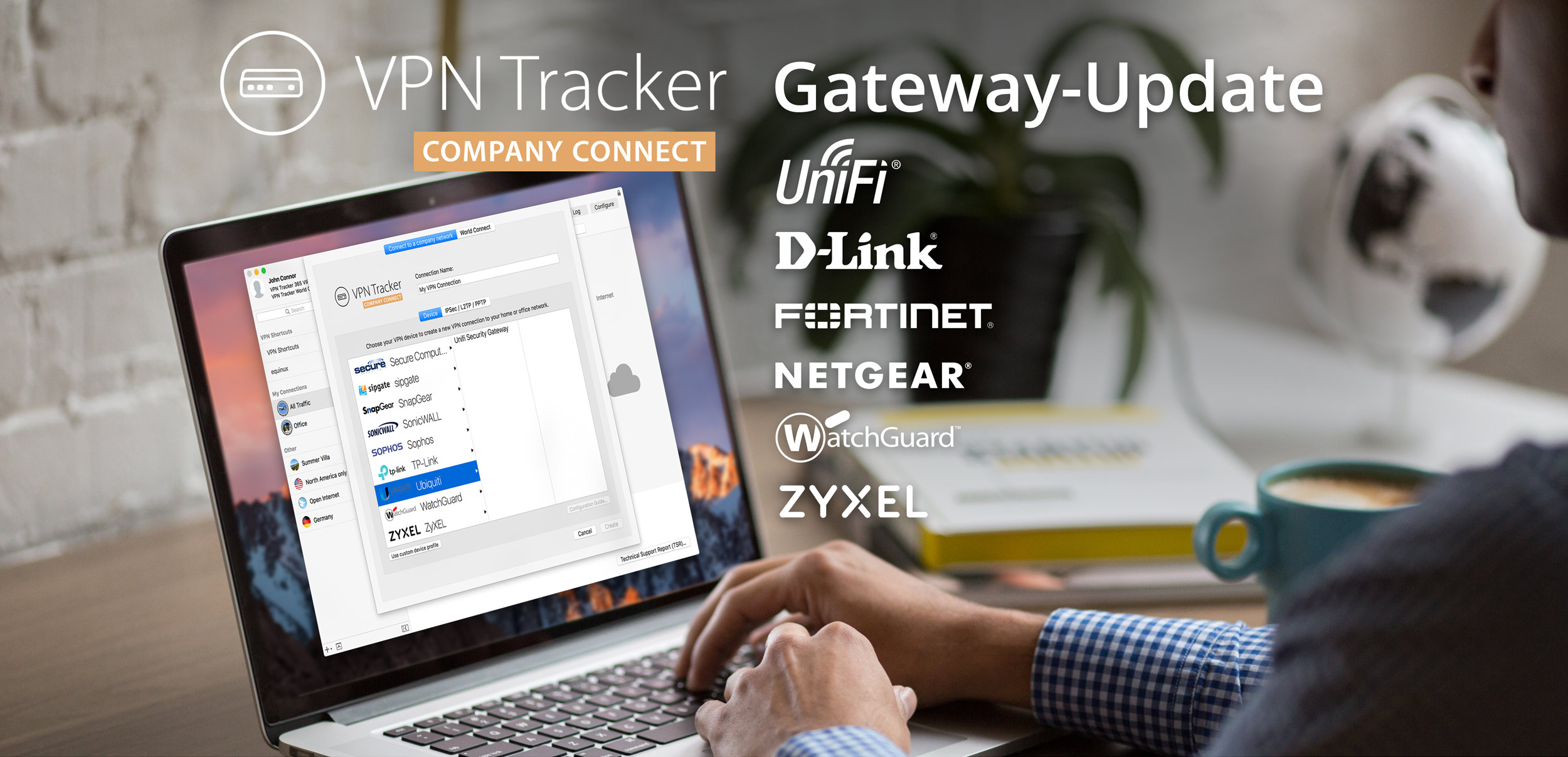 The US Manufacturer, Ubiquiti, founded by former Apple developer, Robert J. Pera, rolled out into the network scene at the right time. Their high-performance wifi technology with easy centralized management have made Ubiquiti one of the most in-demand networking solutions on the market. On top of that, Ubiquiti has been brought to the spotlight with its UniFi Access Points. Their high quality coupled with a relatively inexpensive price tag has made Ubiquiti one of the most sought after brands in the networking market. UniFi also offers great gateway options for small teams, start-ups, and larger corporations.
So how can you use your Ubiquiti UniFi as a VPN gateway for your Mac? No problem with the latest Ubiquiti UniFi Security Gateways firmware and with VPN Tracker 365. With our new and detailed Ubiquiti Configuration Guide  in VPN Tracker 365, getting Macs connected to VPN on your UniFi is effortless.

VPN Tracker 365 Gateway support




NEW

 More than 25 VPN Gateways are supported

With the latest version of VPN Tracker 365 (Download), we've added support for additional new VPN Gateways from well-known manufacturers: D-Link, FortiNet, NETGEAR, Watchguard and ZyXEL.

D-Link: DSR-1000AC, DSR-250N

FortiNet: FortiGate 30-50 Series, FortiGate 60-90 Series, FortGate 100-200 Series, FortiGate 300-500 Series, FortiGate 600-900 Series, FortiGate 1000 Series, FortiGate 3000 Series, FortiGate 5000 Series, FortiOS 5.x und neuer

NETGEAR: UTM 9S/UTM 25S, UTM 50/100

Watchguard: XTM Series, Firebox M-Series, Firebox T-Series

ZyXEL: USG60W, USG60, USG40W, USG40, USG310, USG210, USG110, USG1900, USG1100, ZyWALL 110, ZyWALL 310, ZyWALL 1100

The new models are listed below, you can find all 300+ supported devices on our compatibility page.

Update & Availability: The latest VPN Tracker 365 version with Ubiquiti UniFi Security Gateway Support is free with your VPN Tracker 365 Plan (Download the latest VPN Tracker 365 version here).

New customers can get their VPN Tracker 365  for only 69.99 EUR per year (covers all personal Macs). Benefit from the robust and secure VPN Tracker features for your business and personal needs. Customers with older VPN Tracker versions can upgrade for a discounted offer. VPN Tracker is compatible with macOS Sierra and already supports the latest Public Beta of macOS High Sierra.