VPN Tracker is the market-leading VPN client for OS X. Our team hears from customers every day who rely on VPN Tracker to get work done remotely on their Mac. Last year, we launched VPN Tracker 365, our first service-based version of VPN Tracker. With VPN Tracker 365, customers benefit from ongoing improvements and service-based features such as Remote Connection Wipe, as well as free major upgrades and security updates.
After launching VPN Tracker 365, we received feedback from some customers who told us they prefer a traditional license-based model, or that subscription purchases are tricky within their company or organization.
Today we're introducing VPN Tracker 9: a brand new version of VPN Tracker designed for OS X El Capitan that can be purchased as a one-time license: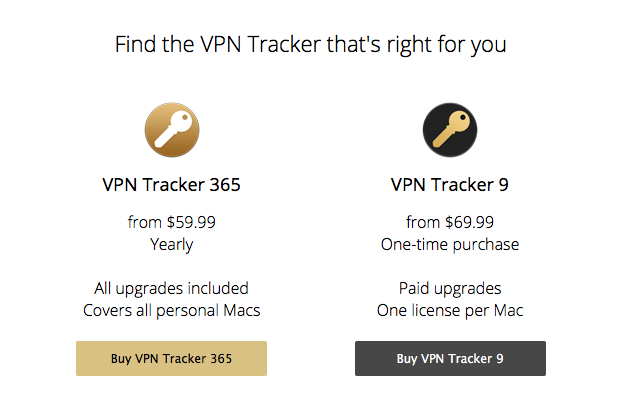 VPN Tracker 9
VPN Tracker 9 supports the latest IPSec VPN security encryption standards and convenient productivity features, including VPN Shortcuts, Automatic Connection Actions, Quick launch menu bar and location triggers.
VPN Tracker 9 is also available as a Pro edition, designed for consultants and admins: VPN Tracker 9 Pro offers additional features including Accounting, Network Scanner, connection export and more.
Teams, Enterprises and Workgroups will love new Team Management and Deployment options included with VPN Tracker 9 that make it super simple to deploy VPN Tracker to everyone on staff.
Here are the main differences: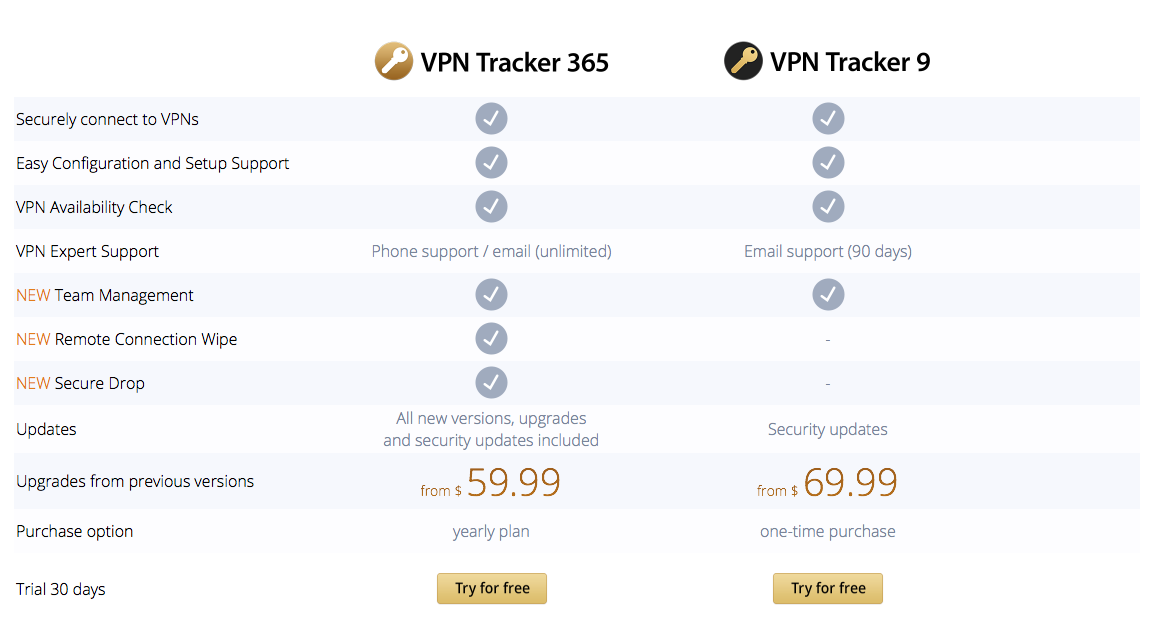 The Future Roadmap
Going forward we'll continue to offer both models: VPN Tracker 9 customers will have the option of upgrading to future major versions for a low upgrade price, and VPN Tracker 365 customers will receive all upgrades free of charge for the lifetime of their plan.
VPN Tracker 9 is available immediately from the equinux Online Store as a one-time purchase. It supports OS X 10.9 - OS X 10.11. Existing VPN Tracker customers can purchase a discounted upgrade. Future upgrades will also be available to existing customers with a discounted upgrade price.
VPN Tracker is also available as VPN Tracker 365 – a service offering the same great connectivity features, plus ongoing major upgrades for all OS X versions and additional service-based features including SecureDrop encrypted file sharing and Remote Connection Wipe – now included with all VPN Tracker 365 plans.
We're committed to offering the best and most secure VPN experience on the Mac and are pleased to do so with VPN Tracker 9 and VPN Tracker 365.