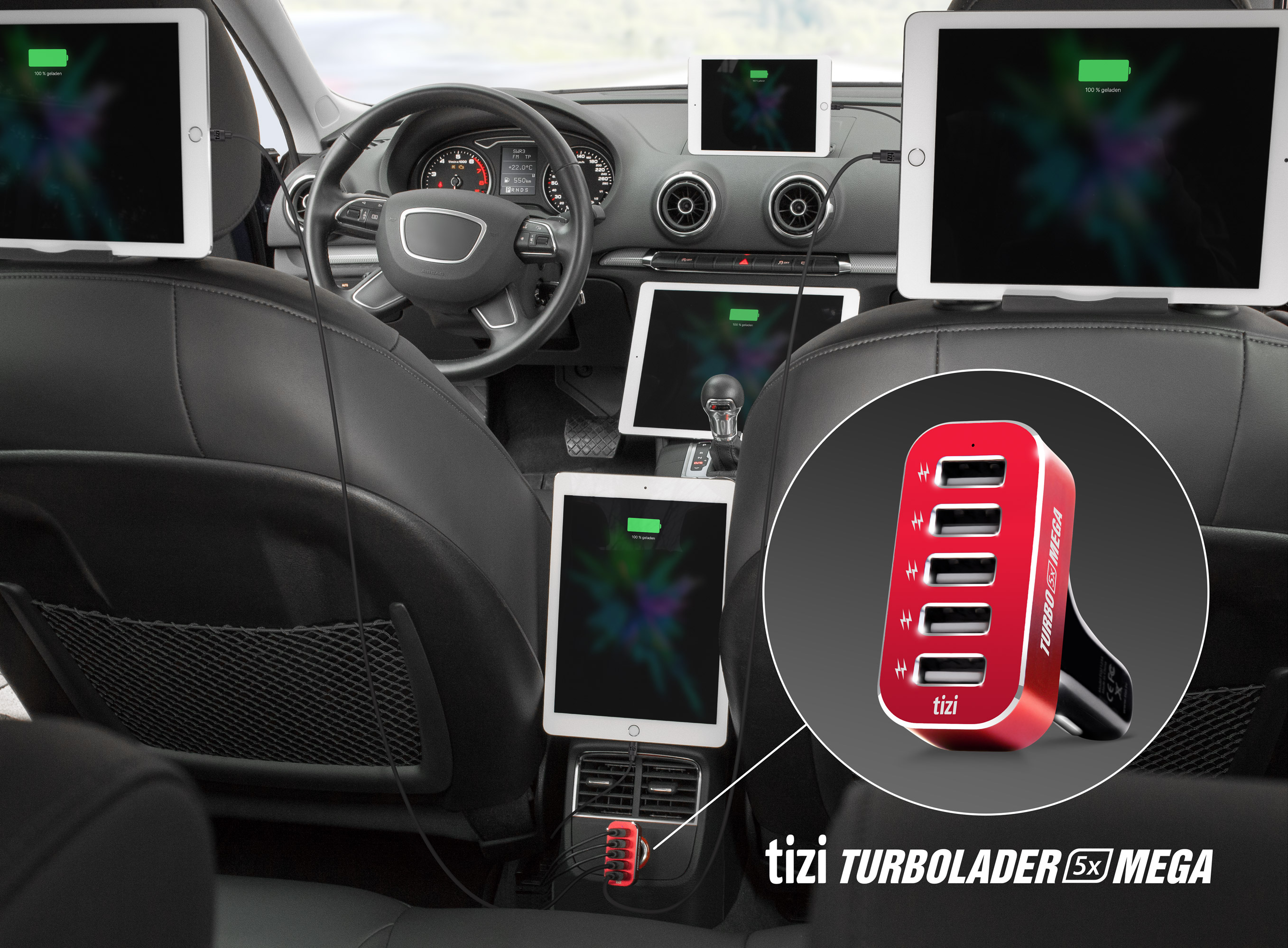 Engineering at its best: Okay, a flux capacitor and a talking K.I.T.T. car still don't exist, but this one-of-a-kind, futuristic charging device is indeed available to buy!
Our equinux engineers show what's possible by snagging up to 60 watts of power out of your regular cigarette lighter socket with the tizi Turbolader 5x MEGA. Each port delivers up to 2.4A, which adds up to a total of 12A. Really unbelievable!
Testing the limits of performance and power: "We wanted to know".
The power provided by the tizi Turbolader is enough to charge up to 5 iPads simultaneously, just as fast as if they were plugged into the wall socket at home. "Why a car USB charger for 5 devices? Simple. We wanted to know if it would work", explains the equinux CEO Till Schadde. "The tizi Turbolader 5x MEGA is a feasibility study. Our Development Team wanted to take it to the technical limit. This Turbolader is a clear mark of a higher end product as part of the tizi Turbolader family".
Performs to the limit
Even if your car doesn't have the most horse power under the hood, you can still put the pedal to the metal with the tizi Turbolader 5x MEGA , the most powerful USB car charger currently available on the market, and you get first dibs!
Despite the amazing power and speed delivered by the tizi Turbolader 5x MEGA, safety is still number one! The solid aluminum head cools the device and the Turbolader meets all of the stringent regulations and requirements in Germany.
The tizi Turbolader 5x MEGA is available immediately at an introductory price of only 49.99 EUR ($49.99) online at www.tizi.tv/en/tiziturbolader and on Amazon.
Learn more about the entire tizi Turbolader Family here.