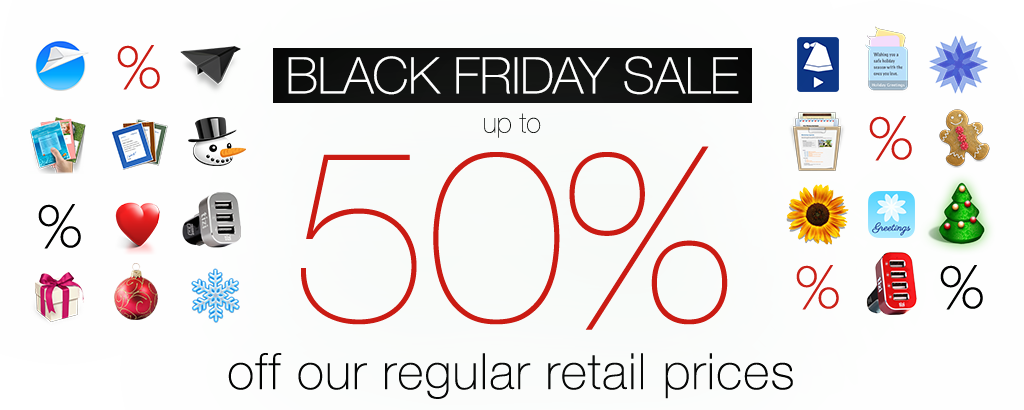 Great gift ideas. Unbelievable savings. Stuff that turkey and fill your shopping basket with the deals of the year.  There's something for everyone at the annual equinux Black Friday SALE 2015. Only Through Sunday, November 29 - 2015…you'll save big on cool apps and gadgets for, friends and family.
Let this click take you where the savings are
Our  Black Friday Sale is an avalanche of savings
Tis the season to be jolly & of course more productive: Maybe Santa doesn't exist, but this incredible sale does! Grab the newest version of Mail Designer (now only $14.99 instead of $29.99) and Mail Designer Pro (now $24.99). Why not send cool, personalized Holiday greetings by email this year and even include your Aunt in Germany. Get Season's Greetings 7 for just $5.99, 50% of the regular price!
Get your batteries loaded wherever you go! Check out all the TURBO deals of the tizi Turbolader family - USB chargers for fast, high power, simultaneous charging of your favorite USB gadgets. And always stay connected with the super smart tizi flip lightning cables.
Keep your accessories safe and looking good in our this sturdy, little, protective "suitcase" tizi Köfferchen. Only until Sunday, get the tizi Köfferchen for 50% off the regular price! Take this little beauty home for the Holidays for only $9.99 (regular price $19.99).
There's so much more to see and even more to save. PS…let your friends know!