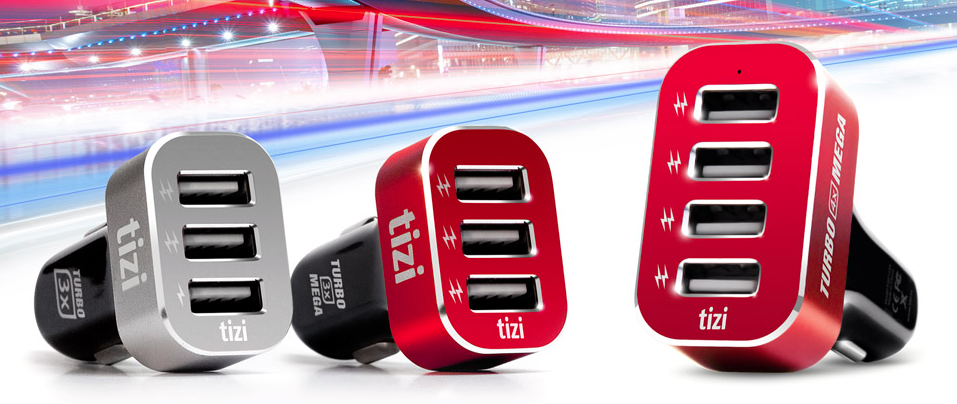 The tizi tuning team has maximized the charging power and connection possibilities for your cockpit: Get the ultimate energy boost with tizi Turbolader 4x MEGA and leave those other chargers in the dust.
Maximum speed: Your new charging highway

Get in gear with the tizi Turbolader 4x MEGA, offering 4 USB ports with maximum charging power for your USB devices all at the same time (up to 2.4A on each USB port).
Maximum capacity: Backseat gadgets welcome
The "intelligent charging assistant" - The Auto Max Power™ Technology determines the perfect charging power for each device: iPads charge with high power and your iPhone charges 2x faster than with its original charging cable!
Safety first!
The big, robust body of the tizi Turbolader 4x Mega is designed to stay cool and not overheat. The rugged, off-road design also ensures that the tizi 4x MEGA fits snuggly into the cigarette lighter port. You're always sure to find a parking spot for your devices here.
Maximum style 
Convenient cockpit charm? The red/silver aluminum design is a real eye-catcher for any vehicle, from family van to sporty convertible, it just looks good.
With four ports, you're ready for every scenario… 
Family trip – Lights, camera, and never ending action: Finally a charging device with enough space and power for smartphones, tablets and even more juice left over for the GPS, Kindle, camera, USB fan, mini fridge, handheld game device etc…
Power-up for those Business trips: On the road again and this time, fully charged: Keep the juice flowing for your smartphones, Netbooks, smart watches and mobile batteries.
Road trip with friends: Connect four! Off to a festival, comic convention, or to chill on the beach?  Now it's possible to all arrive with a fully loaded smartphone.
Get the tizi Turbolader 4x MEGA now for only 39.99 Euros at Amazon.