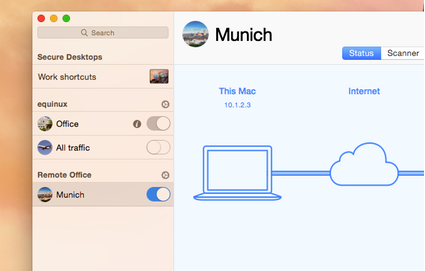 We're pleased to offer all OS X Yosemite users our next technology preview release of VPN Tracker 8.
The Scanner and Accounting views have an updated look for Yosemite
The Log has moved next to the Configure button
Note: This is an early beta that allow you to start testing your VPN connection and new VPN Tracker features with OS X Yosemite Developer Preview.
Buy VPN Tracker 7, get VPN Tracker 8 for free
If you purchase any version of VPN Tracker 7 today, you'll get a free upgrade to VPN Tracker 8. This offer is for all VPN Tracker 7 products, including Business Packs and Upgrades.