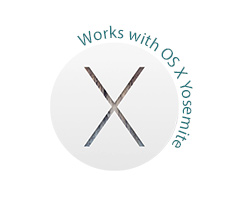 Now that OS X Yosemite Public Beta is out, you're probably wondering which apps work with Yosemite so you can start testing Apple's latest and greatest. The good news: most of your equinux apps already work with OS X Yosemite.
Here's the full rundown:
Work great
CoverScout
Greeting Cards / Stationery Pack
iSale 5
Mail Designer 2
Mail Designer Pro 2
MediaCentral
SongGenie 2 (one minor font issue will be fixed soon)
Spot Maps
tizi for Mac
TV for Mac
The Tube
VPN Tracker 8
VPN Tracker note
Apple has changed a fair bit under the hood for networking, but we're offering VPN Tracker 8 beta as a free download during the beta for all Yosemite users. Your existing connections will be copied into VPN Tracker 8 automatically, allowing you to test Yosemite with your VPN connections. For more details, head over to the VPN Tracker 8 beta page.
That wraps up our first Yosemite overview — if you have any question, just send us an email or get in touch on twitter.