When planning which software and hardware technologies to use, you want to know that you're getting a solution that's going to last. The equinux Protection Plan is an add-on for VPN Tracker, that gives you access to all major upgrades and updates for the duration of your plan.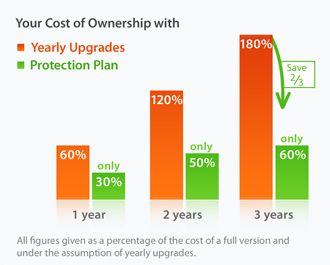 We offer plans for all VPN Tracker 6 editions with 1, 2 or 3 year durations, allowing you to lower your total cost of ownership by up to two thirds.
Not sure which edition or pack is right for you? Head on over to our brand new calculator to get your quote.
equinux Protection Plan for VPN Tracker