Thanksgiving is over and everywhere you look people are untangling lights and looking for boxes of decorations – it must be Christmas.
Season's Greetings Vol. 4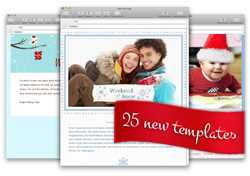 Season's Greetings Vol. 4 has 25 brand new templates for all types of Christmas messages.
So whether you're helping your kids email their wishlists (even Santa has an iPhone nowadays…) or would like to send some Christmas cheer to family and friends, you'll find a perfect design for every occasion.
Season's Greetings Vol. 4 is available exclusively from the equinux Online Store. You can also purchase a bundle with all four of our Christmas collections (Season's Greetings 1-4) that includes an incredible 76 Christmas-themed designs.
Timeline
The latest Stationery update also adds a new feature, the timeline. You can find upcoming holidays and other events on the timeline - click to see templates that are suitable for each specific occasion.
We hope the new timeline will make it easier to keep in touch with your loved ones (and find the perfect template for every occasion) all year round.
On your iPad
We've already submitted a free update to Magic Mails, so you will soon be able to use Season's Greetings 4 on your iPad as well. As usual, customers that own our Stationery Pack templates for the Mac can access all of their templates with Magic Mails. You can already use Season's Greetings Vol. 1-3 today with Magic Mails on the App Store.
Happy Holidays
We hope you all have a great December and enjoy sending out your Christmas messages with our new designs. Please let us know if you have any template requests that you would like to see next year.
Happy Holidays from all of us here at equinux!