This is the email that Till sent to the equinux team this morning after we heard the news.
A translation is below. Rest in peace Steve.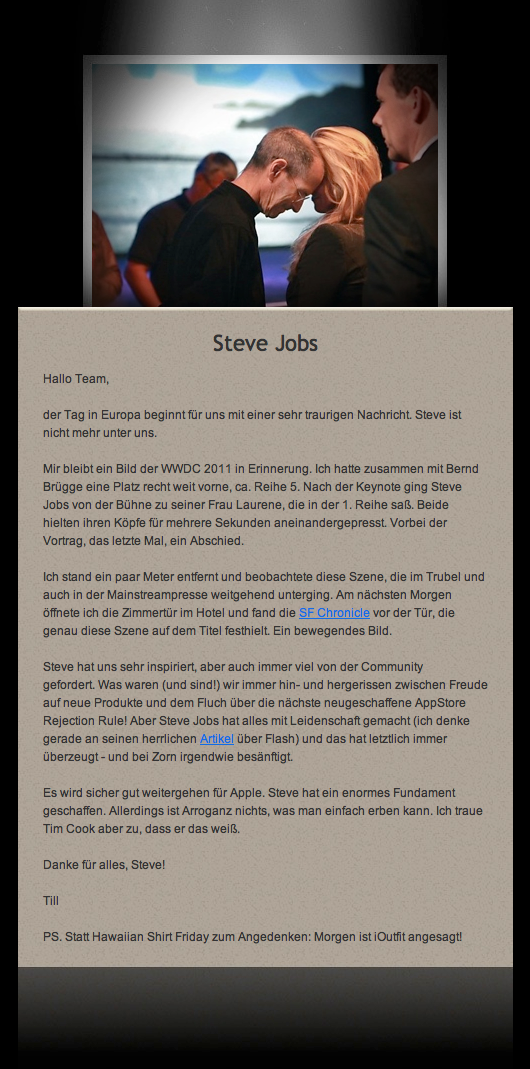 Dear Team,

This morning we woke up to very sad news: Steve is no longer with us. I wanted to share an experience I had at WWDC this year with you all:

I was watching the keynote and was sitting in the fifth row near the front, along with Bernd Brügge. After the presentation, I watched Steve leave the stage and head over to his wife, Laurene, who was sitting in the first row. They rested their heads together for a few moments. He was done. One last keynote, his farewell.


I was a few meters away and watched the scene, which seemed to go unnoticed by the mainstream press audience who were rushing out of the hall. The scene left a lasting impression on me. The next morning, I opened my hotel room door to find a copy of the SF Chronicle with that very same image on the front cover – such a moving moment.

Steve inspired us, but also demanded a lot from the Apple community. He led us through transitions and changes that weren't always easy. We've been amazed by new products and dismayed by App Store regulations and rejections, often all on the same day.

But above all, Steve was passionate about everything he did (I'm reminded of his brilliant article on Adobe Flash), and it was that passion that we believed in and helped us overcome any doubts we may have had.

Steve built an amazing company, and it remains to be seen whether his self-confidence and conviction will live on at Apple. However, I trust that Tim Cook knows what he needs to do and Apple will continue to flourish.

Thanks for everything Steve!

Till
P.S. Instead of tomorrow's hawaiian shirt day, we'll be having iOutfit day instead.