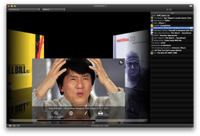 It's been a hard few months but with lots of practice and determination all our developers have at long last learned Chinese 🙂 As a result of this exciting development both SongGenie 1.2 and CoverScout 3.2 are now fully localized in Simplified Chinese.
Better still even though our developers have been extremely busy learning Chinese they have somehow still found the time to prepare both programs for the next big Mac Cat. While they were tinkering around under the hood they've also managed to increase the efficiency of both programs so they now use much less of your system resources.
You can download the SongGenie 1.2 and CoverScout 3.2 updates from our website - simply click the highlighted links.