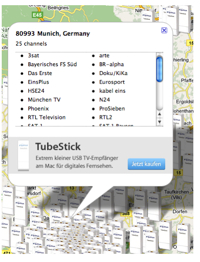 Here's something special for all of you out there thinking about getting a TubeStick TV Tuner for your Mac - The brand new TubeStick Map!
TubeStick Map is a brand new resource for all of you out there not sure which digital free-to-air TV Channels you will be able to receive with a TV tuner for your Mac. Based on Google Maps the interactive TubeStick Map allows you to select your country along with your ZIP code to view the channels TubeStick users are able to receive in that area.
In case you were curious all this info hasn't just come from anywhere - its from all the fantastic TubeStick users who have been kind enough to share their channel lists.
And for all of the wonderful existing TubeStick users out there why not help out your fellow Mac users by submitting your tuning info when you search for channels in The Tube. All you have to do is select the option to send your tuning info to equinux after you channel search.