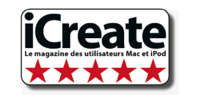 iCreate France and iSale are not strangers. Last year the redaction tested iSale 4 and gave it 4 stars. A good grade, but we knew we could do better.
In June edition, iCreate just published their findings of iSale 5.2, the last release of our software. Our eBay auction manager received 5 Stars (the highest grade awarded) and received great praise for its new features and functions, including the Research Assistant, Smart Groups, Videoclips Integration and more.
Don't hesitate to have a look at the review, just note that it is in french so don't be surprised 🙂 )... and discover iSale, the software which will save you time, money and stress.