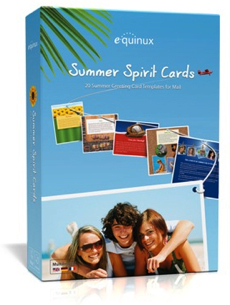 Today we took the lid off of Summer Spirit Cards, a fantastic collection of 20 templates that celebrate what we all love most about summer.
Summer Spirit Cards let you create picture postcards of your vacation, invitations for your friends and family to next weekend's BBQ and if you think people really want to know, announcements informing all your friends that you're back on campus. Summer Spirit Cards are the perfect accessory if you're a Mac user with an eye for design - of course you have an eye for design if you have a Mac 🙂
Top-notch backgrounds, elaborate mask effects and perfectly positioned picture drop zones make each greeting card perfect for all of you wanting to create jaw-dropping emails.
Summer Spirit Cards can be found at just about every Apple Store in the US for only $19.95. If your nearest Apple Store is actually far away - just head on over to our online store